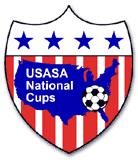 The Jersey Shore Boca men's open team will seek to capture the New Jersey Amateur Cup Championship on Sunday morning when they travel to Rahway and square-off against Rahway & Rio United for a chance to advance to the USASA Amateur Cup regional competition next month.
Boca Men Seek NJ Amateur Cup Championship
Will face Rahway & Rio United on Sunday for spot in regional tournament
TOMS RIVER, NJ (April 13, 2005) – The Jersey Shore Boca men's open team will seek to capture the New Jersey Amateur Cup Championship on Sunday morning when they travel to Rahway and square-off against Rahway & Rio United for a chance to advance to the USASA Amateur Cup regional competition next month.
The New Jersey Amateur Cup Championship game will be held at Rahway Junior High School on Sunday, April 17th with kick-off slated for 10:00 AM.
Boca advanced to the NJ Amateur Cup Championship by defeating the Kearny Scots 2-0 in a quarter-final match and then were victorious over Bridgewater Raritan 4-1 in the semi-finals last November.
If victorious on Sunday, Boca would represent New Jersey at the USASA Amateur Cup Regional Tournament held next month in Maryland.
The Jersey Shore Boca men's open team plays in the Semi-Pro Division of the Garden State Soccer League and has a current league record of 4-3-1.
Two former shore area standouts, Ryan Applegate of Central Regional-Rowan University and Christian Treney of Toms River East-Methodist College are player-coaches and managers of the Boca men's open team.
"On behalf of all our Coaches, Directors, Staff and Players, I would like to wish our men's open team the best of success this Sunday as they compete for the New Jersey Amateur Cup Championship. This is a tremendous achievement for the men's team and our Club. Ryan, Christian and everyone on the roster deserve our congratulations. We hope they will be taking a trip to Maryland next month" mentioned Walt Konopka, a member of the Jersey Shore Boca Board of Directors who also runs the Club's Under-23 program.
The New Jersey Amateur Cup is hosted by the New Jersey Soccer Association, the governing body for adult soccer in New Jersey.
It is part of the United States Adult Soccer Association's National Cup Competition, which is the oldest and most prestigious soccer tournament in the United States for any person who is a member of a team playing in a league affiliated with the United States Soccer Federation and the United States Amateur Soccer Association.
The USASA National Cup Competition began in 1914 for the Men's Open Cup. In 1923, the Men's Amateur Cup was added and in 1980 the Women's Amateur and Over 30 Cups were begun.
Each year, some 600 teams across the United States participate in the USASA National Cup Competition in one of eight divisions including the Men's Open Cup; Men's Amateur Cup; Men's Over 30 Cup; Men's Under 23 Cup; Women's Open Cup; Women's Amateur Cup; Women's Over 30 Cup and Women's Under 23 Cup.
This year's National Finals of the USASA National Cup Competition will be held on August 5-7, 2005 at the new FC Dallas soccer complex in Frisco, Texas.
Jersey Shore Boca has been a fixture in the soccer community since 1978 and is one of the most respected soccer clubs on the East Coast.
The Club is celebrating their 27th year of existence in 2005.
For more information on the Jersey Shore Boca Soccer Club visit the Club's official web site at www.jerseyshoreboca.com

news