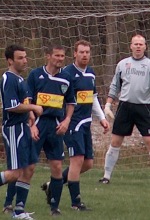 The Jersey Shore Boca men's open team split a pair of games this past week as they topped Scotch Plains United 1-0 in NJ State Cup Quarter-finals Thursday evening at the Berkeley Soccer Complex but fell to SoccerPost.com on Sunday afternoon in a 2-1 heartbreaker at the same venue in their final league game of Garden State Soccer League regular season.
Boca Men Split Games For Week
Team advances to NJ State Cup semi-finals but drops heartbreaker in league regular season final
BERKELEY TOWNSHIP, NJ (April 27, 2008) – The Jersey Shore Boca men's open team split a pair of games this past week as they topped Scotch Plains United 1-0 in NJ State Cup Quarter-finals Thursday evening at the Berkeley Soccer Complex but fell to SoccerPost.com on Sunday afternoon in a 2-1 heartbreaker at the same venue in their final league game of Garden State Soccer League regular season.
In a hard-fought State Cup quarter-final match, Boca tallied the only goal of the evening as Stevens Tech graduate Christian Pontier (Forked River) found Tomas Banionis (Berkeley Township) inside the 18-yard box who buried his shot to the near post past the out-stretched Scotch Plains keeper.
Jim Keady (Belmar), a former professional player in the USL with the North Jersey Imperials and former assistant coach at St. John's University, picked up the shut-out between the pipes for Boca.
The Boca men will face the Spring Street Strikers of North Jersey, a 2-1 quarter-final winner over the Hibernians SC in the NJ State-Cup semi-final round next month.
During their first three State Cup games this season, Boca has tallied 8 goals while allowing only 3.
In their final regular season Garden State Soccer League game, the Boca men dropped a 2-1 heartbreaker to division leader SoccerPost.com on a cold, blustery Sunday morning in Berkeley.
Justin Fuccello (Brick), a former Brick Memorial standout and Rutgers University graduate tallied the lone Boca goal, his fifth of the season, mid-way through the first half after a Banionis cross found him all alone about 10 yards out on the left side.
After allowing the tying goal fifteen minutes into the second half, SoccerPost's Tom Poznanski, a former Monmouth University standout, tallied the game winner with less than ten minutes to play as he beat Keady at the far post from 20 yards out.
The Boca men finished the regular GSSL season in third place in the Semi-Pro Elite Southern Division with 29 points and a record of 9 wins, 2 ties and 3 losses.
In regular season league play, Boca scored 40 goals while allowing 17 in 14 games played.
In addition to their State-Cup semi-final match, Boca will now await their draw for the 2008 GSSL League Cup which also begins in May.
Former Shore area players Ryan Applegate of Central Regional and Rowan University and Christian Treney of Toms River East and Methodist College are player-coaches of the team.
Jersey Shore Boca has been a fixture in the soccer community since 1978 and is one of the most respected soccer clubs on the East Coast.
The Club is celebrating their 30th anniversary in 2008.
For more information on the Jersey Shore Boca Soccer Club visit the Club's official web site at www.jerseyshoreboca.com
news