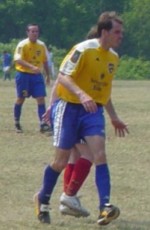 Brian Hutterman and the Jersey Shore Boca men's open team will begin their 2005-2006 season this Sunday as they face the Shore Hurricane SC at 9am at the Manchester Soccer Complex. Boca seeks to build upon the success of last season when they advanced to the finals of the Garden State Soccer League Semi-Pro League Cup as well as the finals of the New Jersey Amateur Cup.
Boca Men Start 2005-2006 Season Sunday
Team hopes to build on success of last year and return to the GSSL Championship
TOMS RIVER, NJ (September 9, 2005) – The Jersey Shore Boca men's open team will begin their 2005-2006 season this Sunday as they face the Shore Hurricane SC at 9am at the Manchester Soccer Complex as they seek to build upon the success of last season and return to the Garden State Soccer League (GSSL) Cup finals again this year.
The Boca men's open team is coming off of a very successful 2004-2005 season.
The team plays in the Semi-Pro Division of the Garden State Soccer League and had an overall record of 14-6-2 last year which included advancing to both the New Jersey Amateur Cup finals as well as the finals of the GSSL Semi-Pro League Cup last year.
Boca also captured the 2004 New Jersey State Cup in the men's open division.
Former Shore soccer standouts Ryan Applegate of Central Regional ('94) – Rowan University and Christian Treney of Toms River East ('94) – Methodist College are player-coaches of the team.
Also expected to make contributions for the Boca men this year are former Monmouth University players Guy Lockwood (Southern Regional '90) and John Carozza (Central Regional '01) along with Mike McCullion, a former Monsignor Donovan High School ('96) and College of New Jersey (Trenton State College) standout, Brian Hutterman (Toms River East '92 – Richard Stockton College), Chris Auriano (Toms River North '00 – William Paterson University), Moses Mingle (St. Raymond's '95 – FDU Teaneck) as well as long-time Boca veteran Eddie Decker (Toms River East '88 – East Stroudsburg University), who played professionally with the NJ Stallions of the USL and with Boca's PDL team in 2003.
Lithuanian born Thomas Bannionis (Berkeley Township), the team's MVP high-scoring forward from last year will also be returning.
New additions to the Boca men's open team this year include Justin Fuccello (Brick), Frank Guacdascione (Manchester), Oren Solon (Bayville) and former Ocean County College standout Eric Davis (Lakewood) who all played for the Boca U23 team this past summer in the Mid-Atlantic Summer Showcase League.
Fuccello led the Boca U23s this past summer with two goals and four assists while Solon contributed one goal and one assist.
Fuccello and Guacdascione are also long-time members of the Jersey Shore Boca club with Fuccello playing on Boca's initial Super Y-League teams earlier in his career.
Boca's GSSL schedule for the first part of the year through November is as follows:
Sun-9/11 – 9AM – Home vs. SHORE HURRICANE SC
Sun-9/18 – 10AM – Away vs. TKS TRENTON
Fri-9/23 – TBD – Home vs. GERMAN AMERICAN KICKERS
Sun-10/2 – 10AM – Away vs. SPUTNIK SC
Sun-10/9 – 10AM – Away vs. PAMAMERICA SPORT FC
Sun-10/16 – 10AM – Home vs. UNION UKRAINIANS
Sun-10/23 – 2PM – Away vs. POLISH FALCON SC
Sun-10/30 – 10AM – Home vs. TATRY SLOVAKIA SC
Sun-11/13 – 9:30AM – Away vs. FC STEAUA
All Boca home games will be played at the Manchester Soccer Complex unless specifically noted.
Jersey Shore Boca has been a fixture in the soccer community since 1978 and is one of the most respected soccer clubs on the East Coast.
The Club is celebrating their 27th year of existence in 2005.
For more information on the Jersey Shore Boca Soccer Club visit the Club's official web site at www.jerseyshoreboca.com
news