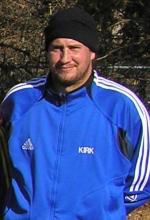 In only their second year in existence together, the Jersey Shore Boca over-30 men's team will continue their 2009-2010 campaign on March 28th just six points behind division leaders Cranbury Rangers in the GSSL Over-30 elite division. The Boca 0-30s field a roster packed with some of the most talented players to ever come through the shore area and are poised to make a run at the division title.
Boca Over 30s Have The Talent To Succeed
Team begins spring campaign only six points shy of division leader
BERKELEY TOWNSHIP, NJ (February 28, 2010) – In only their second year in existence, the Jersey Shore Boca over-30 men's team will continue their 2009-2010 season in March just six points behind division leaders Cranbury Rangers in the Garden State Soccer League Over-30 elite division
The O-30 men field a roster packed with some of the most talented players to ever come through the shore area and are poised to make a run at the division title.
The team will resume play on March 28 as they travel to Monmouth County and square-off against the Monmouth Red Star in a critical division match.
Boca has won 3, tied 1 and lost 4 at the break and currently reside tied for fourth place of the Men's Over-30 Elite Division with 10 points.
The Boca 0-30 team has scored 20 goals at the break while conceding 23.
Boca is backstopped between the pipes by Doug Laperry (Beachwood) and Richard Stainton (Brick).
Laperry starred at Toms River South before moving to Rowan University while Stainton, a former Brick Memorial standout, led Green Mountain College to the NAIA National Tournament.
Lithuanian born Tomas Banionis (Berkeley Twp) leads the Boca 0-30s in scoring with six goals on the season, which places him second in the race for the league scoring title.
Banionis is followed by Luke Hurley (Bayville – West Chester University), Jay Staiger (Toms River – Richard Stockton) and Robert Curran (Manahawkin-East Carolina) who all have tallied three goals apiece for Boca.
Some other members of the Boca 0-30 team who are former shore area high school and college standouts include Kirk Pericciouli (Bayville – University of Wisconsin), Sal Colino (Toms River – University of Tampa), Matt Burke (Red Bank – Rutgers University), Joe Humerik (Toms River – University of Rhode Island), Jeff Quinn (Freehold – Slippery Rock University), Adam Curtis (Bay Head – University of Rhode Island) and Brendon Liston (Toms River – Wheeling Jesuit University) to name only a few.
The Boca 0-30 men's team will play their remaining home games of the 2009-2010 season at Jakes Branch Park in Beachwood.
Former shore area player Chris Cafarell (Lincroft) is player-coach of the team.
Jersey Shore Boca has been a fixture in the soccer community since 1978 and is one of the most respected soccer clubs on the East Coast.
The Club is celebrating their 32-year anniversary in 2010.
For more information on the Jersey Shore Boca Soccer Club visit the Club's official web site at www.jerseyshoreboca.com
news