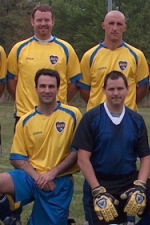 The Jersey Shore Boca over-30 men's team defeated the Monmouth Kickers 1-0 Sunday morning at Dorbrook Park in Colts Neck to begin their 2010-2011 Garden State Soccer League season with three consecutive victories. Boca finished last season with the capture of the GSSL over-30 Super Division League Cup and a second place divisional finish. The Boca men return to action this Sunday when they travel north to face FC Dynamo.
Boca Over-30 Men Off To Good Start
Team goes 3 for 3 to begin GSSL 2010-2011 season
COLTS NECK, NJ (September 26, 2010) – The Jersey Shore Boca over-30 men's team defeated the Monmouth Kickers 1-0 Sunday morning at Dorbrook Park in Colts Neck to begin their 2010-2011 Garden State Soccer League (GSSL) season with three consecutive victories.
Former Freehold Township standout and Slippery Rock University All-American Jeff Quinn tallied the game winner for Boca to give the over-30 side a perfect 3-0 start in as many games.
The Boca over-30s started their 2010-2011 GSSL Super Division league campaign on September 12 with a 2-1 hard-fought away win at the River Road Rangers of Piscataway.
The men of blue and gold received their two tallies from former Central Regional and Rowan University standout Ryan Applegate (Bayville) and Lithuanian born Tomas Banionis (Bayville) who finished last season with 18 goals and the GSSL over-30 individual scoring title.
The Boca over-30 men then hosted Central Espanol FC at the Berkeley Soccer Complex on Sunday September 19 for their first home match of the season which saw Boca prevail over their Central Jersey opponents 6-4 in a high scoring affair.
Banionis scored his second of the season for Boca against Espanol and former West Chester University standout Luke Hurley (Bayville) found the back of the net twice.
Boca's remaining three goals were scored by new over-30 team member Paul Greitz, long-time Boca alum Sal Colino (Toms River North – University of Tampa) and Uruguayan native Marcelo Cawen (Little Egg Township).
Former Toms River South and Rowan University goalkeeper Doug LaPerry picked-up the three wins for Boca between the pipes.
The Boca men return to action on Sunday October 3 when they travel north to face FC Dynamo in a 9:00am start.
The Boca over-30's finished the 2009-2010 season with the capture of the GSSL Over-30 Super Division League Cup and an overall record of 10 wins, 3 ties and 5 losses.
Boca totaled 33 points which was good enough for a second place divisional finish. The team tallied 57 goals in 2009-2010 regular season play while conceding 37.
Chris Cafarell (Lincroft) is player-coach of the team.
Jersey Shore Boca has been a fixture in the soccer community since 1978 and is one of the most respected soccer clubs on the East Coast.
The Club is celebrating their 32-year anniversary in 2010.
For more information on the Jersey Shore Boca Soccer Club visit the Club's official web site at www.jerseyshoreboca.com
news