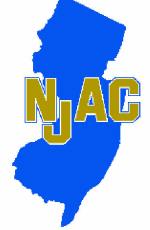 A pair of Jersey Shore Boca U23 standouts, Michael Krol of Howell and Erin Cunliffe of Lakewood, received end-of-season awards from the New Jersey Athletic Conference (NJAC) last week as Krol was named to the NJAC 2008 Men's Soccer All-Conference Second Team while Cunliffe received NJAC 2008 Women's Soccer Honorable Mention honors. Krol and Cunliffe have been members of the Boca U23 program for the past two years.
Boca Pair Receives League Honors
Krol and Cunliffe tab 2008 NJAC season awards
LAKEWOOD, NJ (November 10, 2008) – Jersey Shore Boca U23 standouts Michael Krol (Howell) and Erin Cunliffe (Lakewood) received end-of-season awards from the New Jersey Athletic Conference (NJAC) last week as Krol was named to the NJAC 2008 Men's Soccer All-Conference Second Team while Cunliffe received NJAC 2008 Women's Soccer Honorable Mention honors.
Krol, a sophomore defender at Montclair State University, started in all 20 games for the Red Hawks this season tallying 2 assists while taking 16 shots.
The Howell High School alum helped Montclair to a perfect 20-0-0 season and its third consecutive New Jersey Athletic Conference championship with a 1-0 victory over third-seeded Rutgers-Camden at Sprague Field last Friday evening.
Krol and the Red Hawks now await their selection opponent in the NCAA Division III Men's Soccer Tournament.
Cunliffe, a senior midfielder at The College of New Jersey is tied for sixth in the conference in goals with 10, which is her career high.
The former Piner standout played in all 19 games for TCNJ this season leading then to an overall 12-6-1 record also tallying 2 assists
Cunliffe was also recently named to CoSIDA's ESPN The Magazine Academic All-District II Second Team.
Krol and Cunliffe have been members of the Boca U23 program for the past two years.
Boca has been a fixture in the soccer community since 1978 and is one of the most respected soccer clubs on the East Coast.
The Club is celebrating their 30-year anniversary in 2008.
For more information about the Boca U23 teams and all other the Jersey Shore Boca programs logon to the Club's official web site at www.jerseyshoreboca.com
news