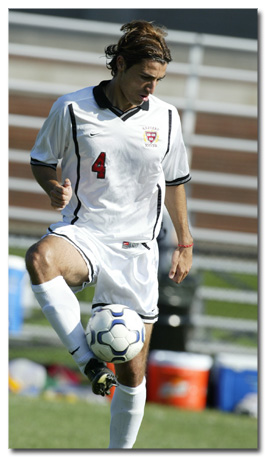 All-Ivy Crimson midfielder Kevin Ara, who was a significant contributor on the Jersey Shore Boca PDL team last year, was selected with the fourth pick in the third round of the 2004 Major League Soccer Superdraft on Jan. 16 at the Charlotte Convention Center in Charlotte, N.C.
Boca PDL Player Picked By DC United in 2004 MLS Draft
Ara now teammates with Freddy Adu in DC
CHARLOTTE, NC (January 16, 2004) – All-Ivy Crimson midfielder Kevin Ara, who was a significant contributor on the Jersey Shore Boca PDL team last year, was selected with the fourth pick in the third round of the 2004 Major League Soccer Superdraft on Jan. 16 at the Charlotte Convention Center in Charlotte, N.C..
Taken by D.C. United, Ara was the second player selected by that team, the first being the much-talked-about 14-year-old Freddy Adu who was the draft's first overall pick. He also became the highest Ivy player drafted among the five selected in the 60-pick, six round draft.
"We are so excited for him", said assistant Harvard coach Gary Crompton. "He developed so much over his four years through hard work and dedication. What makes it so special is that Kevin will get to go play professional soccer and when his career is over, he will have a Harvard degree that will help him navigate through the rest of his life."
Ara earned first-team All-Ivy honors in 2002 and 2003, becoming the first Harvard player to earn back-to-back first team selections since Armando Petruccelli accomplished the feat in 1998 and 1999. He finished second on the team in scoring with 14 points (5g, 4a).
One of Harvard's main offensive threats, he was first in the League in shots with 55 and his point total had him in a tie for fourth.
A 2002 third-team All-America selection, he was also named first-team All-New England and even though he missed a month of competition, he still led Harvard and finished third in the League in scoring that season with 20 points.
Ara played and started in seven games for the Jersey Shore Boca PDL side in 2003. He tallied 1 goal and 1 assist in 538 total minutes.

news