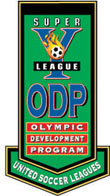 Nearly 400 of the nation's top U13-U15 year old boys, including fifteen Boca SYL standouts, will gather in Cocoa, Florida this weekend in the first of four Super Y-League Olympic Development Program National Camp weekends over the next month that will scout over 1,100 players when they come to a close February 6
Boca Players Prepare For SYL ODP Camp
National Camp Begins Friday in Florida
TAMPA, FL (January 6, 2005) – Nearly 400 of the nation's top U13-U15 year old boys, including fifteen Boca SYL standouts, will gather in Cocoa, Florida this weekend in the first of four Super Y-League Olympic Development Program National Camp weekends over the next month that will scout over 1,100 players when they come to a close February 6.
"We introduced these identification camps as the pinnacle of our ODP system, which is based on a season-long evaluation process to identify the players for the camps," said SYL Director Matt Weibe. "The camps were a great success last year and we look forward to providing these elite youth players with the opportunity to display their skills in front of National Staff Coaches."
Players selected from each of the SYL divisions will come together at the Cocoa Expo Center for three days at each camp, playing a series of 40-minute matches and going through several specialized training sessions. Tailored training and evaluations for goalkeepers will also be held at the camps.
All levels of the scouting system will be present at each camp with the regional SYL scouts on hand with US Soccer's National Staff Coaches and new SYL ODP National Camp Technical Director Perry Van Der Beck. Players will be evaluated on their technique, tactics, fitness and psychology and will receive written reports for feedback on their performances.
An SYL ODP National Team will be selected by the SYL ODP Scouting Coaches in consultation with the USSF National Staff Coaches for each age group following every camp based on the players' camp and season performances.
"This weekend's camp will be of significant importance as it will help identify the future U17 National Team players and we are proud to be a part of that process."
Also attending the first camp will be current US U17 National Team Assistant Coach Raul Diaz Arce, who has played professionally in Major League Soccer and USL.
The busy SYL schedule continues with New England, Metro, Mid Atlantic and South Atlantic Division meetings at the NSCAA Convention January 14-16 in Baltimore. The SYL ODP National Camps continue with U14-U15 Girls January 21-23, U16-U17 Boys January 28-30 and U16-U17 Girls February 4-6.
"This is probably the most important month for us as an organization because we are doing what the SYL was intended to do in identifying players for the National Team program and in preparing for the 2005 season," said Weibe. "We are finalizing the alignments for 2005 and the four division meetings at the NSCAA Convention are an important step toward establishing an annual general meeting for the entire league which would hopefully be held in conjunction with the convention in the future."
Announcements for the SYL ODP National Teams will follow each camp and division alignments will be released over the coming weeks.
news