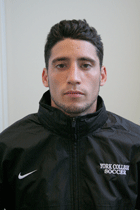 With the 2007 college soccer season underway for one month, several members of the Boca U23 men's and women's teams from this summer are competing well for their respective college teams with some, including York College senior transfer Jason Mancuso, making impressive starts in helping their schools open conference play.
Boca Players Shining in College
U23 standouts doing well one month into the 2007 college soccer season
Mancuso, McGrath, Fuccello and Krol off to strong start
TOMS RIVER, NJ (September 22, 2007) – With the 2007 NCAA college soccer season underway for one month, several Jersey Shore Boca standouts are competing well for their respective college teams with some making a very impressive start in helping their schools open conference play.
Jason Mancuso (Toms River), a senior transfer at York College of Pennsylvania, has helped lead his Division III Spartans to a perfect 8-0 start and #1 ranking in the nation by the National Soccer Coaches Association of America (NSCAA).
The former Toms River North standout has started in all 8 games and tallied 6 goals and 3 assists to place third on the team in scoring.
Justin McGrath (Brick), a 2004 Monsignor Donovan graduate has started every game for Seton Hall University this season.
The senior midfield captain has helped the BIG EAST Pirates to a 3-4-0 start and has tallied 3 goals to date to place third on the team in scoring as his team heads into BIG EAST Conference action.
Jessica Fuccello (Brick), a sophomore at the University of Pennsylvania, leads the Lady Quakers in scoring with 7 goals and 2 assist and has helped Penn to a 5-1-1 start.
The former Brick Memorial standout was also named the Ivy League's Player of the week for September 4 scoring game winning goals against Saint Louis and Robert Morris.
Senior Courtney Krol (Howell) has tallied 1 goal and 3 assists for The College of New Jersey and has helped the Lions to a 6-0-1 start.
Krol was also named the New Jersey Athletic Conference's (NJAC) Defensive Player of the Week for September 17 as she helped TCNJ to a 5-0 win over Ramapo College.
The former Rebel helped limit Ramapo to just three shots on goal in the win and registered her first goal of the season off of a direct kick in the 80th minute.
A two-time NJAC Defensive Player of the Year selection, Krol is a part of a defensive unit that leads the NJAC in fewest goals allowed per game (0.20) and has not surrendered a score in its last 445 minutes of game action.
Junior Erin Cunliffe (Lakewood) and seniors Jennifer Olszewski (Brick) and Lori Adriance (Hazlet) have also contributed to TCNJ's successful start with Cunliffe playing in all 7 games while Olszewski and Adriance taking the pitch in 6 games each.
Mancuso, McGrath, Fuccello, Krol, Cunliffe, Olszewski and Adriance were members of the Boca U23 men's and women's teams this past summer that advanced to the finals of the MSSL Cup Championship.
Other Boca U23 team members from this summer are also making contributions to their respective college teams during the first month of the 2007 college soccer season.
Junior midfielder Mark Schmiegel (Toms River) has started all 7 games for Bucknell University (1-3-3) while tallying one goal and two assists.
Senior defender Danny Haydu (Toms River) has played in 6 games for Monmouth University (4-2-1) notching one assist against Iona on September 21.
Seniors Brittany Heller (Newton) and Katie Bubins (Marlton) along with sophomore Sarah Conway (Brick) have contributed to the success of the Monmouth University women's side (2-2-2) with Heller starting in all 6 games and recording 1 goal while Bubins and Conway seeing action in 3 games each.
Junior midfielder Andrew Finger (Mullica Hill) has started 6 of 7 games for Rowan University (4-3-0) tallying one goal against Medgar Evans on August 31 while teammate freshman goalkeeper Charlie Cunliffe (Lakewood) has seen action in 4 games between the pipes for the "Profs" allowing 3 goals while making 14 saves in 179 minutes.
Senior midfielder Chris Quinn (Hazlet) has played in 4 games for Villanova University (5-1-0) and has recorded 1 goal and 1 assist.
Sophomore forward Bobby Wynn (Toms River) has started in all 6 games and tallied a team leading 8 goals and 2 assists for Ocean County College (2-2-2).
Freshman midfielder Michael Krol (Howell), who is the younger brother of Courtney, has played in all 9 games for Montclair State University (7-1-1) recording 1 goal and assists.
Senior co-captain Tanya DiDonna (Colts Neck) has started in all six games and recorded a team leading 4 assists for Centenary College (2-3-1).
Senior midfielder Nicole Tatulli (Brick) and freshman defender Jane Dorsey (Ocean Grove) have each played in all 10 games while starting 5 for Dominican College (3-7-0) with the former Brick Memorial standout Tatulli scoring 1 goal while Dorsey tallied 1 assist.
Junior keeper Emily Wagner (Brick) has played in all 1,035 minutes between the pipes for Loch Haven University (4-6-1) allowing 20 goals while making 79 saves.
Junior Jessica Gannon (Mercerville) has appeared in all 7 games for Wilkes University (3-4-0).
Sophomore Allison Abbate (Oceanport) and seniors Erica Kaps (Jackson) and Meghan Kielt (Brick) have all played in 10 games each as they helped the Georgian Court University women's team to a 5-5-0 overall record.
Abbate, a former Shore Regional HS standout, has tallied 4 goals on the season while Kaps, a Monsignor Donovan alumnus, has notched 2 goals and 1 assist for the Lions.
Sixty-seven Jersey Shore Boca standouts who previously played for the Club on either their Men's, Women's, Super Y-League, PDL, Club or Youth teams, are participating in NCAA intercollegiate soccer this fall representing their respective institutions as players and coaches in some of the top college soccer programs in the nation.
The sixty-seven mark the highest number ever of Jersey Shore Boca players and coaches to participate in NCAA intercollegiate soccer during the same season in the Club's twenty-nine year history.
Jersey Shore Boca has been a fixture in the soccer community since 1978 and is one of the oldest and most respected soccer clubs on the East Coast.
The Club will be celebrating their 30-year anniversary in 2008.
For more information on the Jersey Shore Boca Soccer Club, log on to the Club's official web site at www.jerseyshoreboca.com
news