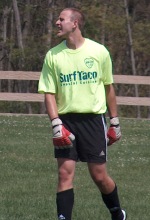 The Jersey Shore Boca men's U23 team took the pitch Tuesday night under the lights at the John Patrick Sports Complex in Lakewood and routed the Middletown Celtic 7-0 in a mid-week MSSL regular season game. With the win, Boca improves to 3-0-2 and moves into second place in the overall U23 MSSL league standings one point behind league leading Hillsborough SC. Brett Axelrod picked up the shut-out for Boca in goal.
Boca Routs Middletown
Axelrod picks up shut-out while Mancuso erupts for five goals
LAKEWOOD, NJ (June 19, 2007) – The Jersey Shore Boca men's U23 team took the pitch Tuesday night under the lights at the John Patrick Sports Complex in Lakewood and routed the Middletown Celtic (NJ) 7-0 in a mid-week Mid-Atlantic Summer Showcase League (MSSL) regular season game.
With the win, Boca improves to 3-0-2 and moves into second place in the overall U23 MSSL league standings with 11 points, one point behind league leading Hillsborough SC (4-0-0 and 12 points) while Middletown falls to 1-3-1 and moves down into fifteenth place with 4 points on the season.
Boca will face Hillsborough in a regular MSSL league game on Sunday, June 24 at 12:00 noon at the Hillsborough Municipal Complex.
Long time Jersey Shore Boca veteran and former Toms River North HS and Ocean County College standout Jason Mancuso erupted for five goals on the evening striking in the 18th, 20th, 22nd, 66th and 75th minutes, the first of which came on a converted penalty kick attempt.
Mancuso, who will attend York College of Pennsylvania in September with one year of NCAA eligibility remaining, has now scored ten goals over the last three games for Boca.
Boca also received goals from two other former Mariner standouts, Mark Schmiegel in the 35th minute and Butch Huff in the 58th minute. Schmiegel, a junior at Bucknell University in the fall, also assisted on two goals while Huff, a sophomore at Richard Stockton College, recorded the assist on Schmiegel's goal.
Boca's Justin McGrath (Brick), a standout senior midfielder and All-American candidate at Seton Hall University also made his presence felt as he returned to Boca's starting eleven after missing the first two weeks of action and assisted on two of Mancuso's goals and on Huff's single strike.
Keeper Brett Axelrod (Union) recorded his first shut-out of the season in goal for Boca.
Jersey Shore Boca is participating in MSSL for the fourth consecutive year this summer as one of the league's inaugural founding members.
MSSL is a regional summer soccer league, which is specifically designed for collegiate players under the age of twenty-three and is fully sanctioned by the United States Adult Soccer Association (USASA), the national governing body for adult amateur soccer.
The Jersey Shore Boca summer soccer program is officially sponsored by Surf Taco, a popular Mexican themed restaurant chain with six locations throughout the jersey shore.
Boca has been a fixture in the soccer community since 1978 and is one of the most respected soccer clubs on the East Coast.
The Club is celebrating their 29-year anniversary in 2007.
For more information about the Boca U23 teams and all other the Jersey Shore Boca programs logon to the Club's official web site at www.jerseyshoreboca.com
news