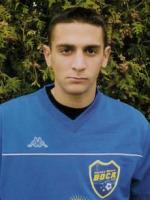 Rutgers men's soccer coach Bob Reasso announced today that three student-athletes have signed National Letters of Intent for next season including Boca SYL standout Joey Sorrentino. Sorrentino is added to the all-star list of Boca players who have continued their soccer careers at the college level and will join five fellow Boca veterans in competing in the BIG-EAST conference this fall.
Boca Standout Selects Rutgers
Sorrentino becomes sixth Boca player competing in the Big-East this fall
PISCATAWAY, NJ (February 4, 2006) – Rutgers men's soccer head coach Bob Reasso will enter his 26th season with the addition of three student-athletes to his roster, including Jersey Shore Boca Super Y-League standout Joey Sorrentino.
Sorrentino (Hamilton, NJ), Pat Tolomeo and Tomislav Barisic will add depth and athleticism to the Rutgers squad that returns all 11 starters from 2005.
Reasso's class brings a diverse mix of international experience, scholastic achievement and versatility. Coupled with the return of its top four scorers and two All-Big East selections, the additions give Rutgers the combination of youthful potential and seasoned experience necessary to compete in the Big East.
Sorrentino, a 5-foot-8, 168-pound Under-17 National Team forward, played one year of varsity soccer at Hamilton High School, where he led the team in scoring.
Following that season, he became a part of the United States Under-17 Men's National Team in Bradenton, FL. In the residency program, Sorrentino has traveled to England, Ireland and Japan, and was a member of the 2005 NSCAA/adidas Boys Youth All-America team.
Recently, he attended the U-18 National Team camp in Los Angeles and was the leading scorer.
In 2004 and 2003, Sorrentino was the leading scorer on the Jersey Shore Boca U-15 Super Y-League team that finished first in the Super Y League Mid-Atlantic Division, earning a trip to the Super Y-League North American finals. He was named to the Mid-Atlantic Regional Olympic Development Program team.
Sorrentino has been a member of the U-14 and U-15 National Teams.
"Joey is a proven goal scorer and we're thrilled that a Jersey guy is coming home to play after being in residency with the US National Team," Reasso said. "I don't think there's any doubt he will have a major impact on our program."
Sorrentino is added to the already all-star list of Boca players who have continued their soccer careers at the college level and will join fellow Boca standouts freshman Jake Weinberg (Rutgers University), sophomores Justin McGrath (Seton Hall University) and Ricardo Arocha (Providence College) and juniors Andrew Hawtin (Syracuse University) and Chris Konopka (Providence College) this fall in competing in the BIG-EAST conference, one of the top men's college soccer conferences in the United States.
"We are very happy for Joey on his college choice. He is a fine young man and a very talented player. He should make an immediate impact for Bob and the Rutgers team" mentioned Walt Konopka, a member of the Jersey Shore Boca Board of Directors who also runs the Boca U23 program.
Jersey Shore Boca had record fifty-five club standouts that previously played for Boca on either their Men's, Super Y-League, PDL, Club or Youth teams that participated in NCAA intercollegiate soccer during 2005 for their respective institutions.
This is the highest number of Jersey Shore Boca players to ever participate in NCAA intercollegiate soccer during the same season in the club's history.
Jersey Shore Boca has been a fixture in the soccer community since 1978 and is one of the most respected soccer clubs on the East Coast.
The Club is celebrating their 28-year anniversary in 2006.
For more information on the Jersey Shore Boca Soccer Club, visit the Club's official web site at www.jerseyshoreboca.com
news