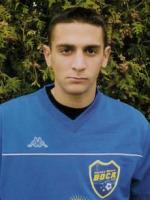 Jersey Shore Boca Super Y-League standout Joseph Sorrentino was named to the roster of the US Under-15 Boys National Team that will participate at the 2004 Dallas Cup. Last year he led his Boca U14 SYL to a very respectable fourth place finish with a 6-5-1 record in the tough Mid-Atlantic Division.
Boca SYL Player Named to US U-15 National Team Roster
One of eighteen players selected by US Coach Jim Barlow
TOMS RIVER, NJ (March 31, 2004) – Jersey Shore Boca Super Y-League standout Joseph Sorrentino of Hamilton, NJ was named to the roster of the United States Under-15 Boys National Team that will participate at the 2004 Dallas Cup.
Sorrentino, a freshman at Hamilton West High School, led his Boca U14 Super Y-League team to a very respectable fourth place finish last year in the SYL's tough Mid-Atlantic Division.
Sorrentino and the Boca U14s, under Coach Tom Gentz, finished the 2003 SYL season with an overall record of 6-5-1 just missing the SYL playoffs by only a few points in the standings.
At the conclusion of the SYL season, Sorrentino was named to the Super Y-League's U14 Mid-Atlantic Regional ODP Team.
Sorrentino is a member of Boca's U-15 SYL team this year.
The US Under-15 Boys' National Team will be taking part in the 25th Dallas Cup in Dallas, Texas from April 4-11.
Sorrentino and the US Under-15s will compete in Bracket E of the 32-team U-16 Group, going up against Dallas Inter Black on Sunday (April 4), Ruckus from Redwood City, Calif., on April 5 and CJSO of Jackson, Mississippi on April 7.
If the US wins the group they will advance to the quarterfinals on April 9 and meet the winner of Group D, which includes Woodbridge Strikers (Canada), SASC Stampede (Arcadia, Calif.), Sockers FC (Chicago, Ill.) and Solar SC (Dallas, Texas).
The semifinals will be played on April 10 and the final will take place at Lake Highlands Stadium on Sunday (April 11).
The US Under-15 Boys National Team is coached by Jim Barlow, head men's soccer coach at Princeton University.
"On behalf of our coaches, directors and staff, I would like to congratulate Joseph on his selection to the U15 National Team for this event. It's certainly quite an honor to be playing along side the best young talent in the nation. I'm sure Joseph will represent the United States, his family, his hometown and our soccer club very well in Dallas. We wish him all the best of success" commented Walt Konopka, a member of the Boca Board of Directors.
Jersey Shore Boca will compete in the Mid-Atlantic region of the Super Y-League, the nation's top elite youth soccer league, for the fourth straight year in 2004.
Boca will field a record six Super Y-League teams, the highest number ever in its SYL history, this year.
Along with their newest U-14 girls team, Jersey Shore Boca will also field five boys teams for the 2004 SYL season; U-13s, U-14s, U-15s, U-16s and U-19s.
Jersey Shore Boca has been a fixture in the soccer community since 1978 and is one of the most respected soccer clubs in New Jersey.
The Club celebrated their 25-year anniversary in 2003.
Boca alumni include several former National and Olympic Team members as well as numerous collegiate players, coaches and former local high school standouts.
news