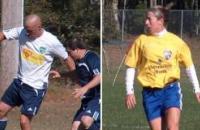 The Boca men's and women's open teams have confirmed the dates for their NJ State Cup semi-final games as both teams will host their opponents on Wednesday, May 21 under the lights at the Berkeley Soccer Complex in Berkeley Township. The Boca women will square-off against defending NJ State Cup Champion Kappa Real Wyckoff at 8pm while the Boca men take on the Spring Street Strikers with kick-off scheduled at 9pm. Both games are open to the general public and admission is free.
Boca Teams Host NJ State Cup Semi-Finals
Men and Women to play Wednesday May 21 at the Berkeley Soccer Complex
BERKELEY TWP, NJ (May 9, 2008) – The Jersey Shore Boca men's and women's open teams have confirmed the dates for their New Jersey State Cup semi-final games as both teams will host their opponents on Wednesday, May 21 under the lights at the Berkeley Soccer Complex in Berkeley Township.
The Boca women will square-off against defending NJ State Cup Champion Kappa Real Wyckoff at 8pm while the Boca men take on the Spring Street Strikers from North Jersey with kick-off scheduled at 9pm.
Both games are open to the general public and admission is free.
"This is a tremendous accomplishment by our men and women. For both to advance to the semi-finals of the State Cup is a testament of just how competitive these teams have been all season long. On behalf of all of our directors, coaches, staff and players throughout our entire club, we wish them the best of success" mentioned Walt Konopka, a member of the Jersey Shore Boca Board of Directors.
"We would also like to thank the Berkeley Soccer Association for their help in arranging these games at their Eastern Boulevard complex. It is one of the finest soccer facilities in the area. Everyone in attendance should see some of the best adult soccer talent and competition the shore area has to offer in a truly outstanding environment" Konopka finished.
The NJ State Cup Finals are scheduled for early June.
Boca's Tomas Banionis and Kristen Kowit have caused their opponents multiple concerns all during the year finding the back of the net as they both led their respective teams in scoring this season. Each will have to be in top form when both Boca teams take the pitch side-by-side on Wednesday night May 21 in the New Jersey State Cup Semi-Finals in Berkeley Township.
The Boca men finished their regular Garden State Soccer League (GSSL) season in third place in the Semi-Pro Elite Southern Division with 29 points and a record of 9 wins, 2 ties and 3 losses scoring 40 goals while allowing 18 against them.
Lithuanian born Tomas Banionis (Berkeley Township) led Boca in scoring with 16 goals during the season.
The Boca men advanced to the Cup semi-finals with a hard fought 1-0 victory over Scotch Plains United two weeks ago.
Former shore area players Ryan Applegate of Central Regional and Rowan University and Christian Treney of Toms River East and Methodist College are player-coaches of the Boca men's team.
"The team has come together nicely throughout the spring. I think playing indoors together all winter has kept us fit and helped us to gel. Vasili Foukarakis' attacking style of play along with Andrew Hawtin's defensive mindedness have complimented each other well in the center of the pitch" commented Applegate about his team's form in recent weeks.
"Our team's depth has enabled us to rest some key injured players and remain highly competitive at the same time."
"We are hoping to have Jay Mancuso back from college and Justin Fuccello had his broken nose fixed and may be wearing a mask. Our keeper Jim Keady has a grade 1 separation in his shoulder but will probably play and Nick Tarquinio remains out while rehabbing his torn ACL" Applegate concluded.
The Boca women finished the GSSL regular season in second place in the Women's A Division with a record of 9-2-2 and 29 overall points and tallied 49 goals while allowing only 20 in league play.
Boca's Kristen Kowit (Lakewood) is the Garden State Soccer League's leading women's scorer this season with 16 goals.
A two-time All-American and two-time ODAC "Player of the Year" during her college career at Lynchburg College, Kowit is also the current girls varsity coach at Red Bank Catholic High School.
The Boca women are guided by long-time shore area coach and trainer Bob DeStefano who is very aware of the good form and high quality of Boca's opponent and the intensity that this game will have.
"This should be a very interesting game. Wyckoff were the State Cup champions last year. We lost to them in the semis in overtime last season. This is always a very tough game when we play them."
"It has become a very good rivalry between us."
The Boca women advanced to the semi-final match with a 6-1 win over the Brunswick Blaze in the quarter-finals.
Jersey Shore Boca has been a fixture in the soccer community since 1978 and is one of the most respected soccer clubs on the East Coast.
The Club is celebrating their 30th year of existence in 2008.
For directions to the NJ State Cup Semi-Finals at the Berkeley Soccer Complex and more information on the Jersey Shore Boca Soccer Club visit the Club's official web site at www.jerseyshoreboca.com
news