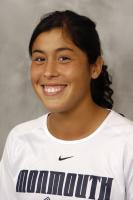 Monmouth University junior and Jersey Shore Boca U23 standout Andrea Lopez converted a breakaway with just 16 seconds remaining in the match to propel Monmouth University to a 2-1 victory over Iona on The Great Lawn Sunday afternoon. Lopez, along with four other Hawk players, were members of the Boca U23 women's team this past summer.
Boca Trio Leads Monmouth
Lopez, DeMoor and Damurjian rally Hawks past Iona
WEST LONG BRANCH, NJ (September 14, 2008) – Monmouth University junior and Jersey Shore Boca U23 standout Andrea Lopez converted a breakaway with just 16 seconds remaining in the match to propel Monmouth University to a 2-1 victory over Iona on The Great Lawn Sunday afternoon.
With the score knotted at one in the final minute, sophomore Ali Kliment cleared the ball towards midfield, where senior Joni DeMoor flicked it on to a running Lopez. Lopez ran by one defender and carried the ball into the box, beating Iona goalkeeper Kelly Mahoney into the lower left corner for the game-winner.
With the win, the Hawks improve to 4-1 on the season, and are now 2-0 at home. The Gaels fall to 0-7.
Sophomore Mary Wilks, who recorded her first career hat trick on Friday night in a Monmouth victory, got the Hawks on the board first against Iona, heading in a corner kick service from classmate Ali Kliment, in the 34th minute.
Iona knotted the score at 1-1, in the 82nd minute, when Julianne Marinaro lifted a cross into the Hawks' box, which made its way through the Monmouth defense to a waiting Alison Moroni, who laced a one-timer by Lia Fierro. Moroni's score was Iona's first goal of the season.
Monmouth outshot Iona 12-9 in the match, forcing Mahoney to make four saves. Fierro made five saves for the Hawks, including two point blank stops in the box in the final 34 minutes.
Wilks and freshman April Damurjian led the Hawks' offensive attack with three shots apiece. Wilks has scored four goals in the last two games, all as a reserve, while Damurjian was denied her first career goal in the first half, when Mahoney made a diving save on the line off a Damurjian low line drive shot.
Monmouth, which is now 18-1-2 at home over the last three seasons, returns to action on Friday, when the Hawks travel to Lehigh for a 7 p.m. match.
Lopez, DeMoor and Damurjian along with Monmouth defenders Sarah Conway and Brianna Salvia, were members of the Boca U23 women's team this past summer.
Boca has been a fixture in the soccer community since 1978 and is one of the most respected soccer clubs on the East Coast.
The Club is celebrating their 30-year anniversary in 2008.
For more information about the Boca U23 teams and all other the Jersey Shore Boca programs logon to the Club's official web site at www.jerseyshoreboca.com
news