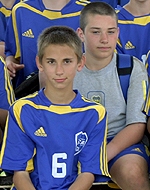 The Jersey Shore Boca U15 boys team will be holding a team fundraising event this Sunday, April 29 at the Lacey Community Hall at the corner of Route 9 and Lacey Road. Festivities will begin at 7pm and include a full spaghetti dinner for those in attendance, music all night long with a DJ, a 50/50 raffle as well as Chinese auction with numerous prizes and gift certificates from local businesses.
Boca U15 Boys Holding Fundraiser in Lacey on Sunday April 29
Spaghetti dinner, DJ, 50/50 and Chinese auction highlight event
TOMS RIVER, NJ (April 25, 2007) – The Jersey Shore Boca U15 boys team under the direction of Head Coach Kirk Pericciouli, will be holding a team fundraising event this Sunday, April 29 at the Lacey Community Hall at the corner of Route 9 and Lacey Road.
Festivities will begin at 7pm and include a full spaghetti dinner for those in attendance, music all night long with a DJ, a 50/50 raffle as well as Chinese auction with numerous prizes and gift certificates from local businesses.
The cost of the event is $10 for adults, $8 for minors and admission is free for children under the age of 5. The fundraising event ends at 10pm.
Tickets will be available at the door as well as in advance by contacting Coach Pericciouli at 732-269-7020 or by email at kwperri@aol.com
Jersey Shore Boca has been a fixture in the soccer community since 1978 and is one of the most respected soccer clubs on the East Coast.
The Club is celebrating their 29th year of existence in 2007.
For more information on the Jersey Shore Boca Soccer Club visit the Club's official web site at www.jerseyshoreboca.com
news