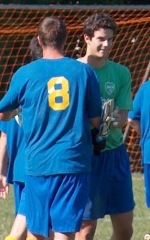 After winning a FIFA penalty-kick shoot-out, the Jersey Shore Boca men's under-20 team advanced to the semi-finals of the United States Adult Soccer Association's Regional Championship Tournament Sunday morning before loosing a heartbreaker to the powerful Maryland Ambassadors 4-3 at the Manalapan Recreation Complex. Boca was 1-1 in preliminary tournament round games on Saturday.
Boca U20s Drop Heartbreaker in Semi-Finals of USASA Regional Championship
Team advanced to final four after FIFA penalty kick shoot-out Sunday morning
MANALAPAN, NJ (July 24, 2005) – The Jersey Shore Boca men's under-20 team advanced to the semi-finals of the United States Adult Soccer Association's (USASA) Regional Championship Tournament Sunday morning before loosing a heartbreaker to the powerful Maryland Ambassadors 4-3 at the Manalapan Recreation Complex.
Boca advanced to the final four in dramatic fashion on Sunday morning before the actual semi-final game began by winning a FIFA Penalty Kick shoot-out 4 to 3 over Milmay FC from South Jersey who tied Boca across the board in all tournament tie-breakers during the preliminary round games on Saturday.
Old Dominion University sophomore goalkeeper Jon Curry-Edwards (Spring Lake Heights) came up big during the penalty kick shoot-out saving two of four PK attempts while Syracuse University bound transfer Andrew Hawtin (Toms River) calmly stepped-up on Boca's fifth kick attempt and buried the winner just inside the left post which allowed Boca to advance.
In the semi-final game after Boca spotted Maryland a 2 goal lead in which one came on a penalty kick, Monmouth University sophomore Danny Haydu (Toms River) took a free-kick 45 yards out on the right side with two minutes remaining in the first half which found Jason Mancuso (Toms River) who snapped in a head ball for Boca's first goal of the game.
Within the first minute of the second half Mancuso, who will transfer to Central Connecticut State in September, ripped a 15 yard shot which rebounded off the Maryland keeper right back to Mancuso who buried his second goal of the game to even the score 2-2.
Fifteen minutes later, Boca tallied their third goal of the game as Seton Hall University sophomore Justin McGrath (Brick) delivered a perfect cross from the right side to Bucknell University bound freshman Mark Schmiegel (Toms River) at the far post who settled the ball and placed a left-footed shot beyond the Maryland goalkeeper.
Although Curry-Edwards and the Boca back defensive crew of Haydu, Hawtin, Pat Bulvanoski (Oceanport – Mt. Saint Mary's College), Sean Cahill (Whiting – West Virginia University), Dave Novak (East Windsor – East Stroudsburg University) and Connor Bryant (Tinton Falls – Bryant University) played very well throughout the entire game, they could hold-off the powerful Maryland attack that scored two more goals to end the match 4-3 in Maryland's favor.
In their first preliminary round tournament game on Saturday, the Boca U20s defeated Morris United from North Jersey 3-1 on goals from McGrath, Mancuso and Stevens Institute of Technology junior Christian Pontier (Forked River) with Providence College junior Chris Konopka (Toms River) picking-up the win in goal.
Boca lost a tough 1-0 match to FC Philadelphia, who also advanced to the final four, in Boca's second preliminary round tournament game on Saturday.
The Boca U20s were one of three teams from the Mid-Atlantic Summer Showcase League (MSSL) to receive wild-card berths into the USASA Regional Championship for 2005.
MSSL is a second year regional soccer league fostering high-level competition during the summer months at both the youth and adult ages in both men's and women's divisions.
The adult level of MSSL is specifically designed for collegiate players under the age of twenty-three and is fully sanctioned by the United States Adult Soccer Association, the national governing body for adult amateur soccer.
Jersey Shore Boca was one of the inaugural founding members of MSSL last year entering one U23 team.
The 2005 MSSL summer season began on June 4th and will finish on July 31st with the league playoffs and MSSL Cup Championship at Rutgers University.
The Jersey Shore Boca men's summer soccer program is officially sponsored by Surf Taco, a popular Mexican themed restaurant chain based in Point Pleasant Beach.
Boca has been a fixture in the soccer community since 1978 and is one of the most respected soccer clubs on the East Coast.
The Club is celebrating their 27-year anniversary in 2005.
For more information about the Boca U20 team and all other the Jersey Shore Boca programs visit the Club's official web site at www.jerseyshoreboca.com
news