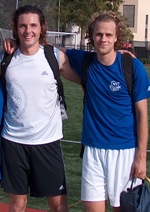 Boca U23 teammates Teddy Niziolek and Chris Konopka were selected in the 2007 Major League Supplemental Draft held yesterday at MLS headquarters in New York. The duo were members of the Boca U23 team this past summer that advanced to the semi-finals of the USASA U23 Regional Championship as well as the semi-finals of the MSSL Cup Championship.
Boca U23 Duo Drafted By MLS Teams
Konopka and Niziolek selected in the 2007 Major League Soccer Supplemental Draft
NEW YORK, NY (January 19, 2007) – Two former Jersey Shore Boca club standouts, Chris Konopka (Toms River), goalkeeper from Providence College and Teddy Niziolek (Clifton), midfielder from Seton Hall University were selected respectively by the Kansas City Wizards and Columbus Crew of Major League Soccer in the Major League Soccer 2007 Supplemental Draft held yesterday at the MLS Headquarters in New York.
Konopka, a long-time Boca veteran, was selected in the 3rd round by the Wizards as the 29th overall pick while Niziolek was tabbed by the Crew in the 4th round as the 41st overall pick.
The duo were members of the Boca U23 team this past summer that advanced to the semi-finals of the USASA U23 Regional Championship as well as the semi-finals of the MSSL Cup Championship.
Konopka becomes the first player ever in Providence College history to be drafted by a Major League Soccer team.
During his Providence career, Konopka finished third all-time in most games ever played by a Friar goalkeeper. He allowed only 57 goals for a 1.17 career GAA, made 199 career saves and had a career save percentage of 77.7% over four years.
In 2006, Konopka garnered All-BIG EAST Second Team accolades becoming only the second goalkeeper in Providence College history to receive All-Conference honors.
A 2003 Toms River East High School graduate, Konopka also became the first goalkeeper in Providence history to ever appear in consecutive NCAA Tournaments (2005 & 2006) and the only keeper in Friar history to lead Providence to 3 BIG EAST Championship Semi-Finals (2003, 2005, 2006).
Niziolek, a 2003 Clifton High School graduate, capped an impressive career with All-BIG EAST Second Team honors. The veteran midfielder had a career-year, tallying five goals and four assists for a career-high 14 points in 2006.
Niziolek scored two game-winners during the 2006 season, including the overtime tally to help the Pirates rally for a 2-1 win at Georgetown. He also showed his versatility and all-around soccer ability when he had to fill in on the backline for four games, during which the Pirates posted a pair of shutouts. Niziolek played in 79 games of his career, starting 78 of them.
Jersey Shore Boca had over fifty club standouts, including Niziolek and Konopka, who previously played for Boca on either their Men's, Super Y-League, PDL, Club or Youth teams that participated in NCAA intercollegiate soccer in 2006 for their respective institutions across the Unites States either as players or coaches.
Jersey Shore Boca has been a fixture in the soccer community since 1978 and is one of the most respected soccer clubs on the East Coast.
The Club is celebrating their 29-year anniversary in 2007.
For more information on the Jersey Shore Boca Soccer Club, visit the Club's official web site at www.jerseyshoreboca.com
news