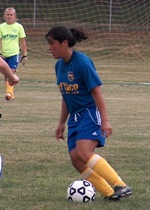 Led by a pair of goals from Boca U23 standouts Andrea Lopez and Joni DeMoor, the Monmouth University women's soccer team posted a 2-0 NEC victory over Robert Morris on Sunday afternoon and ended their 2008 regular home season with an perfect 8-0 record on The Great Lawn. Lopez and DeMoor along with 3 other Hawk standouts were members of the Boca U23 women's side this past summer.
Boca U23 Duo Keep Hawks Perfect At Home
Lopez and DeMoor lead Monmouth to 2-0 win over Robert Morris
WEST LONG BRANCH, NJ (October 19, 2008) – Led by a pair of Boca U23 standouts, the Monmouth University women's soccer team posted a 2-0 Northeast Conference victory over Robert Morris on Sunday afternoon and ended their 2008 regular season with an 8-0 record on The Great Lawn.
Monmouth improves to 12-2-1 overall and 5-1 in Northeast Conference play.
"This was a great result today," said head coach Krissy Turner, who has guided the Hawks to at least 12 wins in each of the last three seasons. "We attacked the entire game and to gain another shutout is a terrific accomplishment. It is also fantastic to be unbeaten at home for the entire season."
Monmouth jumped out to a 1-0 lead at 27:19 when an attacking Andrea Lopez was taken down in the box, resulting in a penalty kick. Lopez, in her first PK attempt of the season, drilled a shot into the right netting for the one-goal advantage.
The Hawks went ahead 2-0 in the 53rd minute, when junior Alessandra DeTata served a corner kick into the box, which was nodded in at the far post by senior Joanna DeMoor, notching her team-leading eleventh goal of the season.
Monmouth outshot Robert Morris 16-10 in the match, and held a 9-4 edge in corner kicks.
DeMoor now leads the team with a career-best 11 goals, and 24 points, while DeTata has a season-best 14 points.
Monmouth returns to action on Saturday, October 25, when the Hawks travel to Mount St. Mary's for an NEC match at 2 p.m.
Lopez and DeMoor along with Monmouth midfielder April Damurjian and defenders Sarah Conway and Brianna Salvia, were all members of the Boca U23 women's team this past summer.
Boca has been a fixture in the soccer community since 1978 and is one of the most respected soccer clubs on the East Coast.
The Club is celebrating their 30-year anniversary in 2008.
For more information about the Boca U23 teams and all other the Jersey Shore Boca programs logon to the Club's official web site at www.jerseyshoreboca.com
news