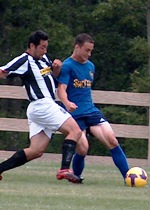 Jersey Shore Boca veteran midfielder and U23 standout Mark Schmiegel received a special award at Bucknell University's annual Senior Athletic Awards Banquet held at the Elaine Langone Center on Tuesday, April 28. The 2005 Toms River North graduate has been a member of the Boca U23 men's teams for the past several seasons including Boca's the record setting U23 team of 2006.
Boca U23 Standout Receives Honors
Mark Schmiegel Receives Senior Athletic Award at Bucknell
LEWISBURG,, PA – Jersey Shore Boca U23 standout Mark Schmiegel (Toms River, NJ), a member of the Bison men's soccer team, received a special award at the University's annual Senior Athletic Awards Banquet, sponsored by the Bison Club and held at the Elaine Langone Center on Tuesday, April 28.
Schmiegel won the Edward W. Pangburn Award, presented to senior athletes "for sportsmanship, fellowship, and contribution to the University."
Schmiegel shared the award with Lauren Schober of the women's basketball team, who was the female selection.
In addition to Schmiegel, several other student-athletes were honored at the banquet, including the winners of the Christy Mathewson Award, given to the most outstanding athletes in the senior class.
A senior co-captain, Schmiegel started all 79 games in his four years at Bucknell.
His success in 2008 earned him a number of awards, including two Patriot League Offensive Player of the Week nods in three weeks and a Second Team All-Patriot League selection at season's end.
Schmiegel was also named to the 2006 Patriot League All-Tournament Team.
He followed the honor by scoring one of the biggest goals of his career, the game winner against George Mason in the 2006 NCAA Tournament.
He concluded his Bucknell career with 12 goals, nine assists and 33 points.
An economics major, Schmiegel is also a Patriot League Academic Honor Roll and Dean's List honoree.
The 2005 Toms River North graduate has been a member of the Boca U23 men's teams for the past several seasons including Boca's the record setting U23 team of 2006.
Boca has been a fixture in the soccer community since 1978 and is one of the most respected soccer clubs on the East Coast.
The Club is celebrated their 30-year anniversary in 2008.
For more information about the Boca U23 teams and all other the Jersey Shore Boca programs logon to the Club's official web site at www.jerseyshoreboca.com
news