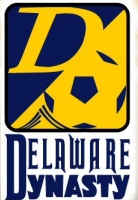 The Jersey Shore Boca U23 men's soccer team will square-off in a friendly pre-season exhibition game against the Delaware Dynasty of the Premiere Development League (PDL) on Saturday May 13th under the lights at the new John Patrick Sports Complex in Lakewood. Admission to the game, which will start at 6:30pm is free and is open to the public.
Boca U23 Team To Face PDL's Dynasty in Friendly Game
The new John Patrick Sports Complex in Lakewood to host event
TOMS RIVER, NJ (May 6, 2006) – The Jersey Shore Boca U23 men's soccer team will square-off in a friendly pre-season exhibition game against the Delaware Dynasty of the Premiere Development League (PDL) on Saturday May 13th under the lights at the new John Patrick Sports Complex in Lakewood.
Admission to the game, which will start at 6:30pm is free and is open to the public.
Last year, the Jersey Shore Boca men's summer program finished as one of the most successful summer programs in the history of the club.
Two Boca teams, U23s and U20s, played a total of 43 games during 2005, had 45 players on their combined rosters, competed in the USASA Regional Championship Tournament and MSSL Cup while playing their second year as one of the founding members of the Mid-Atlantic Summer Showcase League (MSSL).
The Club will again participate in MSSL this summer which begins its third season the first weekend of June.
The Jersey Shore Boca men's summer soccer program is officially sponsored by Surf Taco, a rapidly expanding shore area Mexican-themed restaurant chain.
Boca was also a member of the USL's Premiere Development League for the 2003 season playing in the Eastern Conference – Atlantic Division and finished with an overall record of 4-8-0.
The Delaware Dynasty kick-off their first season in the USL's Premiere Development League this year on May 19th. They are coached by Fran Kulas.
Jersey Shore Boca has been a fixture in the soccer community since 1978 and is one of the most respected soccer clubs on the East Coast.
The Club is celebrating their 28-year anniversary in 2006.
For more information on the Jersey Shore Boca Soccer Club visit the Club's official web site at www.jerseyshoreboca.com
news