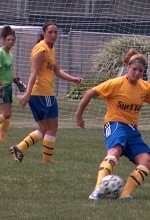 The Boca U23 summer season began in full swing on Sunday with MSSL action at the JP Sports Complex in Lakewood. The Boca women started the day with a 4-0 shutout over Hazlet and then lost their second match 1-0 to Southampton. It was the opposite result for the Boca men as they dropped their first match on the day 3-1 to Montgomery United and then rallied to a 4-1 win over the Winslow SC from South Jersey.
Boca U23 Teams Begin Summer Season
Club continues seventh consecutive year in MSSL as an original founding member
LAKEWOOD, NJ (June 6, 2010) – The Jersey Shore Boca summer soccer program began in full swing on Sunday afternoon with Mid-Atlantic Summer Showcase League (MSSL) action at the John Patrick Sports Complex in Lakewood as the Boca U23 men's and women's teams both split their first pair of games of the new 2010 campaign.
The Boca U23 women, current holders of the 2009 MSSL Cup Championship, started the day with a 4-0 shutout win over the Hazlet Stars (NJ) and then lost their second match 1-0 to a tough Southampton Crunch side from Northeast Pennsylvania.
The Boca women received two goals from Jessica Davila (Middletown North – TCNJ) and single tallies from Jennifer Pyne (Wall – Kutztown) and Brandi Johnson (Jackson Memorial – TCNJ) against Hazlet while Montclair State sophomore goalkeeper Marisa Zavac (Jackson Memorial) picked up the shut-out between the pipes for the ladies of blue and gold.
It was the opposite result for the Boca U23 men as they dropped their first match on the day 3-1 to Montgomery United (PA) and then rallied to a 4-1 win over the Winslow Soccer Club from South Jersey.
The Boca men received their lone goal against Montgomery in the second half with a converted penalty-kick from Brandon Zeller (Toms River East). Zeller, who starred for Costal Carolina University the last two years, will transfer to Drexel University this fall.
Zeller along with Ryan O'Donnell (Toms River North – TCNJ) and Brick Township native Pat Rafferty (CBA – Babson College) tallied one goal each for Boca in the second game against Winslow while Rowan University All-American senior goalkeeper Charlie Cunliffe (Lakewood) recorded the win for the Boca men.
Winslow also recorded an own goal for Boca's fourth goal of the match.
Jersey Shore Boca is participating in MSSL for the seventh consecutive year this summer as one of the league's inaugural original founding members.
MSSL is a regional summer soccer league, which is specifically designed for collegiate players under the age of twenty-three and is fully sanctioned by the United States Adult Soccer Association (USASA), the national governing body for adult amateur soccer.
Walt Pericciouli (Berkeley Township), one of the original founders of the Jersey Shore Boca soccer club and New Jersey Soccer Association Hall of Fame inductee, coaches the Boca U23 men while long-time local women's soccer advocate Charlie Cunliffe (Lakewood) is in charge of the Boca U23 women's team for a fourth straight year.
The Boca summer soccer program for the past several years has established itself as one of the most competitive and most recognized soccer environments in New Jersey for college age players to play and train over the spring and summer months.
The Club's most recent summer program team accomplishments include:
2009 U23 Women MSSL Cup Champions
2008 U23 Women USASA Regionals-First Round
2007 U23 Women MSSL Cup Finals (Inaugural season with Club)
2007 U23 Women USASA Regionals-First Round (Inaugural season with Club)
2009 U20 Men MSSL Cup Semi-Finals
2007 U23 Men MSSL Cup Finals
2007 U23 Men USASA Regionals-First Round
2006 U23 Men MSSL Cup Semi-Finals
2006 U23 Men USASA Regionals-Semi-Finals (Club record 16 wins)
2005 U23 Men MSSL Cup-First Round
2005 U20 Men MSSL Cup Semi-Finals
2005 U20 Men USASA Regionals-Semi-Finals
2004 U23 Men USASA Regionals-First Round
The Jersey Shore Boca summer soccer program is officially sponsored by Surf Taco, a popular shore area Mexican themed restaurant chain with eight locations throughout Monmouth and Ocean counties.
Boca has been a fixture in the soccer community since 1978 and is one of the most respected soccer clubs on the East Coast.
The Club is celebrating their 32-year anniversary in 2010.
For more information about the Boca U23 teams and all other the Jersey Shore Boca programs logon to the Club's official web site at www.jerseyshoreboca.com
news