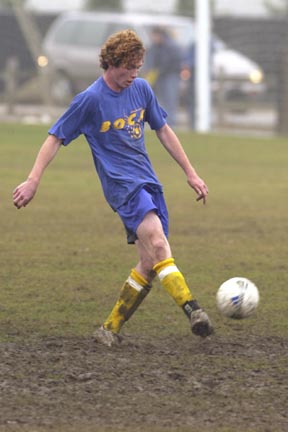 Whiting NJ native Sean Cahill, who scored Boca's first goal with a 25 yard, upper-90 rocket, helped the Boca Under-23 men's soccer team defeat Voorhees 3-2 Wednesday night at the Manchester Soccer Complex to capture their first win of the 2004 summer season in the Mid-Atlantic Summer Showcase League.
Boca Under-23s Defeat Voorhees 3-2 for First Win of MSSL Season
Team Prepares For Two Tough Weekend Games against Top Soccer Clubs
MANCHESTER TWP, NJ (June 17, 2004) – The Jersey Shore Boca Under-23 men's soccer team defeated the Voorhees Soccer Club 3-2 Wednesday night at the Manchester Soccer Complex to capture their first win of the 2004 summer season in the Mid-Atlantic Summer Showcase League (MSSL).
Sean Cahill, a Whiting, NJ native, opened the scoring for Boca in the 20th minute of the game when the tough-nosed defender who played in 18 games for Kean University as a freshman last year, sailed a shot from 25 yards out to the upper far post that left the Voorhees goalkeeper standing still.
The first half of play ended 1-1 with Boca allowing a goal in the 15th minute which beat Old Dominion University bound Jon Curry-Edwards (St. Rose HS) to his near side.
After Voorhees tallied a goal at the beginning of the second half, Christian Pontier of Forked River lofted a ball from 15 yards out to the far post and found his Stevens Institute of Technology teammate Nick Gkionis of Jackson, NJ who buried the head-ball into the back of the net to tie the game at 2-2.
Boca scored the game winner with 10 minutes remaining in the match when former Brick Memorial HS standout Justin Fuccello won a ball 20 yards out, moved to his right and blasted a low, hard shot that beat the Voorhees keeper to the far post.
"We opened up the game a bit more and capitalized on some of our opportunities. Although we still need to defend a little better and have to finish more of our chances, we did come to play tonight and I'm happy with the outcome and our overall performance" mentioned Walt Konopka who coaches the Boca U23 team with Kevin Cheeseman.
With the win, Boca improves to 1-2-1 in the 2004 MSSL season and moves into sole possession of fourth place while Voorhees falls to 0-3-1.
The Jersey Shore Boca U23 team continues their 2004 MSSL season this weekend when they host powerhouse FC Westchester (NY) at 2pm at the Manchester Soccer Complex on Saturday and then travel to Montvale, NJ on Sunday for a 12:30pm start against a strong U23 side from the World Class SC.
The Mid-Atlantic Summer Showcase League is a first year regional adult amateur soccer league specifically designed for collegiate players and is fully sanctioned by the United States Adult Soccer Association (USASA), the national governing body for adult amateur soccer.
In addition to Boca, the eleven other U-23 MSSL inaugural member clubs include PDA (NJ), Cherry Hill United (NJ), World Class SC (NJ), Connecticut Strikers (CT), FC Westchester (NY), Manhattan Kickers (NY), ISA Heat (NY), Lehigh Valley United (PA), NJ Rangers (NJ), The Philadelphia Soccer Club (PA) and Voorhees SC (NJ).
The Boca U23s will play a 12 game MSSL schedule which started on Saturday June 5th with a "MSSL Kick-Off Festival" at Ft. Dix.
All of the Boca U-23 MSSL home games will be played at the Manchester Soccer Complex on Colonial Drive in Manchester Township, NJ.
Because of the league's regional affiliation, the leader in the U23 MSSL standings as of June 30th will receive a wild-card entry into the USASA U-23 Regional Championships in July.
The MSSL regular season ends on July 24th with the league playoffs and championship scheduled for July 31st and August 1st.
The Jersey Shore Boca U-23 roster members include Defenders Patrick Bulvanoski of Oceanport (Mount St. Mary's College), Sean Cahill of Whiting (Kean University), Kris Cheeseman of Barnegat (New England College), Jim Coletti of Warren (Assumption College), Dan Corti of Lakewood (Nyack College), Nick Gkionis of Jackson (Stevens Institute of Technology), Dan Haydu of Toms River (Toms River East HS-Monmouth University) and John Moritz of Tuckerton (Caldwell College); Forwards Joe Cutler of Manahawkin (Southern Regional HS-Rider University), Justin Fuccello of Brick (Rutgers University), Carlos Olate of Iselin (Kean University) and Goreleigh Willis of Wilmington, DE (Swarthmore College); Goalkeepers Jon Curry-Edwards of Spring Lake Heights (St. Rose HS-Old Dominion University); Sean Grayson of Plainfield (Middlesex County College) and Chris Konopka of Toms River (Providence College) and Midfielders Jack Facemyer of Tuckerton (Yale University), Gary Gibson of Raritan (Middlesex County College), Bobby Hurl of Middletown (Kutztown University), Travis Iapicco of Forked River (Stevens Institute of Technology), Will McMaster of Rumson (Randolph Macon College), Robert Munoz of Barnegat (Southern Regional HS-Ocean County College) and Christian Pontier of Forked River (Stevens Institute of Technology).
Jersey Shore Boca has been a fixture in the soccer community since 1978 and is one of the most respected soccer clubs on the East Coast.
The Club celebrated their 25-year anniversary in 2003.

news