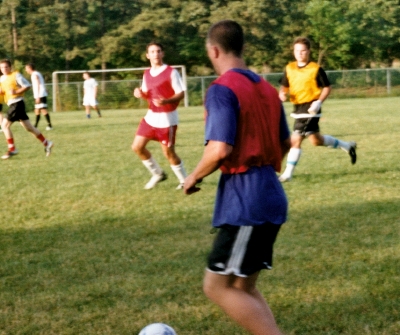 The Jersey Shore Boca Soccer Club's Under-23 men's team, which includes a host of shore area soccer standouts, is set to begin the 2004 summer season this Saturday as the club becomes an inaugural member of the Mid-Atlantic Summer Showcase League (MSSL).
Boca Under-23s Set To Kick-Off Summer Season on Saturday
Club becomes an inaugural member of the Mid-Atlantic Summer Showcase League
TOMS RIVER, NJ (June 3, 2004) – The Jersey Shore Boca Soccer Club's Under-23 men's program for the 2004 summer season is set to begin this Saturday as the club becomes an inaugural member of the Mid-Atlantic Summer Showcase League (MSSL).
Jersey Shore Boca has historically sanctioned a U-23 summer program each year that is designed for the club's collegiate players who return home to the Shore for the summer and want to keep active in a highly competitive soccer environment.
The club's U-23 program also gives recent high school graduates who will continue their soccer careers at the NCAA level, a chance to experience the physical, technical and tactical aspects of the collegiate game before they report to training camp.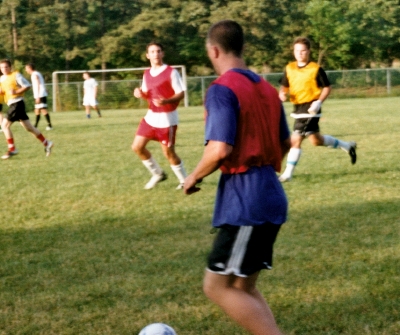 Former Southern Regional HS standout and long-time Boca member Kris Cheeseman (center), a rising junior at New England College, controls the ball at a recent Boca U23 training session at the Manchester Soccer Complex in preparation for the team's first MSSL game of the 2004 summer season.
During 2003, Jersey Shore Boca was a member of the United Soccer Leagues Premiere Development League (PDL), the top U-23 amateur league in the United States, but due to budget restraints, the club was not able to enter the U-23s into the PDL this year.
The Mid-Atlantic Summer Showcase League is a first year regional adult amateur soccer league specifically designed for collegiate players and is fully sanctioned by the United States Adult Soccer Association (USASA), the national governing body for adult amateur soccer.
In addition to Boca, the eleven other U-23 MSSL inaugural member clubs include PDA (NJ), Cherry Hill United (NJ), World Class SC (NJ), Connecticut Strikers (CT), FC Westchester (NY), Manhattan Kickers (NY), ISA Heat (NY), Lehigh Valley United (PA), NJ Rangers (NJ), The Philadelphia Soccer Club (PA) and Voorhees SC (NJ).
The Boca U23s will play a 12 game MSSL schedule which starts on Saturday June 5th with a "MSSL Kick-Off Festival" at Ft. Dix where all 12 MSSL teams will play two-games against each other that will count toward the overall MSSL standings.
The Boca U23s will first square-off against PDA at 11am followed by a 3pm match against the Manhattan Kickers.
Boca's remaining 10 MSSL league games will be split with 5 home and 5 away games.
All of the Boca U-23 MSSL home games will be played at the Manchester Soccer Complex on Colonial Drive in Manchester Township, NJ.
Because of the league's regional affiliation, the leader in the U23 MSSL standings as of June 30th will receive a wild-card entry into the USASA U-23 Regional Championships in July.
The MSSL regular season ends on July 24th with the league playoffs and championship scheduled for July 31st and August 1st.
"We have always provided a competitive environment for our Boca college players to stay active over the summer months when they return to the Shore. This league will allow us to continue our U23 program this year in a very affordable manor at the highest level of soccer available" said Walt Konopka, a member of the Jersey Shore Boca Board of Directors who will also coach the Boca U23 team along with Kevin Cheeseman of Barnegat.
"This will not be a Sunday tavern league by any means. There are some very successful soccer clubs in this league with very talented players who are passionate about and committed to this sport just like we are. I anticipate each game being very competitive. It should be a great summer environment for all of our U-23 players" finished Konopka.
The Jersey Shore Boca U-23 roster members include Defenders Patrick Bulvanoski of Oceanport (Mount St. Mary's College), Sean Cahill of Whiting (Kean University), Kris Cheeseman of Barnegat (New England College), Jim Coletti of Warren (Assumption College), Dan Corti of Lakewood (Nyack College), Nick Gkionis of Jackson (Stevens Institute of Technology), Dan Haydu of Toms River (Toms River East HS-Monmouth University) and John Moritz of Tuckerton (Caldwell College); Forwards Joe Cutler of Manahawkin (Southern Regional HS-Rider University), Justin Fuccello of Brick (Rutgers University), Carlos Olate of Iselin (Kean University) and Goreleigh Willis of Wilmington, DE (Swarthmore College); Goalkeepers Jon Curry-Edwards of Spring Lake Heights (St. Rose HS-Old Dominion University); Sean Grayson of Plainfield (Middlesex County College) and Chris Konopka of Toms River (Providence College) and Midfielders Jack Facemyer of Tuckerton (Yale University), Gary Gibson of Raritan (Middlesex County College), Bobby Hurl of Middletown (Kutztown University), Travis Iapicco of Forked River (Stevens Institute of Technology), Will McMaster of Rumson (Randolph Macon College), Robert Munoz of Barnegat (Southern Regional HS-Ocean County College) and Christian Pontier of Forked River (Stevens Institute of Technology).
Jersey Shore Boca has been a fixture in the soccer community since 1978 and is one of the most respected soccer clubs on the East Coast.
The Club celebrated their 25-year anniversary in 2003.
For more information on all of the Jersey Shore Boca teams and programs visit the Club's official web site at www.jerseyshoreboca.com

news