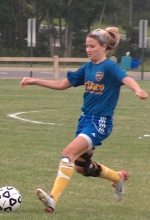 The Boca U23 women rallied past the Jersey Knights 3-1 on route to a decisive MSSL victory on Wednesday evening under the lights at the John Patrick Sports Complex in Lakewood. With the win, Boca improves to 3-1-3 for the summer and moves into a tie for second place in the MSSL U23 women's standings. The Boca U23 women return to action on Sunday July 12 as they host the NJ Rangers with a 10am start in Lakewood.
Boca Women Blast Knights
U23 team rallies for 3-1 win after conceding opening goal
LAKEWOOD, NJ (July 9, 2009) – After conceding the first goal of the match, the Jersey Shore Boca U23 women rallied past the Jersey Knights 3-1 on route to a decisive Mid-Atlantic Summer Showcase League (MSSL) victory on Wednesday evening under the lights at the John Patrick Sports Complex in Lakewood.
With the win, the Boca women improve to 3-1-3 for the summer and move into a tie for second place with the Pocono Snow (PA) in the MSSL U23 women's standings with each team having 10 points.
Although Boca out-shot the Knights 17-2 in the first half, it was the Knights who struck first in the 22nd minute with a goal coming off a wicked deflection from the scrum in the goal box.
The Boca women did not let up and got the equalizer at 42:22 as time wound down in the first half.
Kutztown University rising junior Kelly Bushe (Neptune City) played a superb touch to fellow Golden Bear junior standout Jen Tice (Barnegat) at midfield who dribbled though traffic.
Tice, a two-time PSAC selection at Kutztown then sent a blazing pass to former College of New Jersey standout Erin Cunliffe (Lakewood) splitting two Knight defenders as Cunliffe sprinted toward goal.
The Lakewood Township native picked up the ball just outside of the penalty area and drilled her shot low to left post past the outstretched Knights keeper.
Jen Pyne (Wall), who will also be a junior at Kutztown in the fall, tallied the game winner for Boca in the 55th minute as she fought repeatedly in & through traffic and muscled her way inside the box, finishing with a nice volley off a deflection though the mob in front of goal.
The Boca U23 women received an insurance goal at the 80:10 mark with a pretty Tice-Cunliffe-Pyne combination.
Lauren Albrecht (Marlton), a sophomore at Fairleigh Dickinson in Florham, picked-up the win in goal for the Boca women.
The Boca U23 women return to MSSL action Sunday morning July 12 at the John Patrick Sports Complex in Lakewood as they host the NJ Rangers with a scheduled 10am start.
Jersey Shore Boca is participating in MSSL for the sixth consecutive year this summer as one of the league's inaugural founding members.
MSSL is a regional summer soccer league, which is specifically designed for collegiate players under the age of twenty-three and is fully sanctioned by the United States Adult Soccer Association (USASA), the national governing body for adult amateur soccer.
The Jersey Shore Boca summer soccer program is officially sponsored by Surf Taco, a popular Mexican themed restaurant chain with eight locations throughout the jersey shore.
Boca has been a fixture in the soccer community since 1978 and is one of the most respected soccer clubs on the East Coast.
The Club is celebrating their 31-year anniversary in 2009.
For more information about the Boca U23 and U20 teams and all other the Jersey Shore Boca programs logon to the Club's official web site at www.jerseyshoreboca.com
news