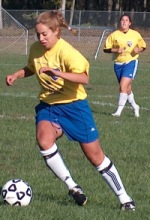 After ninety minutes of regulation time and thirty minutes of overtime, the score of the New Jersey Soccer Association Women's Open Cup championship between Jersey Shore Boca and the Peninsula Aztecs was all even at 1-1 before the Aztecs out shot Boca in a FIFA penalty kick shootout to capture the Open Cup silverware at Sabella Park in North Brunswick last Tuesday evening.
Boca Women Drop Cup Heartbreaker
Open team loses NJSA Open Cup on FIFA penalty kicks
Van Curen and Maher shine on Cup stage
NORTH BRUNSWICK, NJ (June 16, 2010) – After ninety minutes of regulation time and thirty minutes of overtime, the score of the New Jersey Soccer Association (NJSA) Women's Open Cup championship between Jersey Shore Boca and the Peninsula Aztecs was all even at 1-1 before the Aztecs out shot Boca in a FIFA penalty kick shootout to capture the Open Cup silverware at Sabella Park in North Brunswick last Tuesday evening.
After Boca conceded a goal early in the first half of play, the women of blue and gold battled fearlessly against Peninsula for the second forty-five minutes and were rewarded for their hard fought efforts during the final minute of regulation time.
In a movie-like ending, former Freehold Boro and Monmouth University standout Sarah Van Curen collected a loose bouncing ball inside the Aztec 18-yard box, turned and fired a quick, low shot just beyond the reach of the Peninsula keeper to even the score as the ninety minutes expired.
Boca and Peninsula played cautiously throughout the two fifteen minute overtime periods with each side creating only a limited amount of quality scoring opportunities.
Boca's young goalkeeper Colleen Maher (Wall Township) was solid between the pipes for the Boca women throughout the entire match.
Maher, a Wall High School senior who will continue her soccer career Alvernia College in the fall, was impressive for the Boca women as she commanded her area with authority while making several quality saves on the evening.
During the FIFA penalty kick shootout which extended to the sixth shooter, the Boca women scored twice while Peninsula tallied three penalty kicks to end the contest and give the Aztecs the Cup.
The Boca women advanced to the 2010 NJSA Women's Open Cup final by defeating the Philadelphia Flames in the quarter-finals last November and then topping the NJ Lions of Trenton back on May 14.
Other recent accomplishments of the Jersey Shore Boca women's open team include GSSL Women's Elite Division Runner-Up (2009), GSSL League Cup-Semi-Finals (2008) and NJSA Open Cup-Semi-Finals (2008).
Kristen Kowit (Lakewood), a two-time All-American and two-time Old Dominion Athletic Conference "Player of the Year" during her college career at Lynchburg College is a player-coach for the Boca women's open team.
Jersey Shore Boca has been a fixture in the soccer community since 1978 and is one of the most respected soccer clubs on the East Coast.
The Club is celebrating their 32-year anniversary in 2010.
For more information on the Jersey Shore Boca Soccer Club visit the Club's official web site at www.jerseyshoreboca.com
news