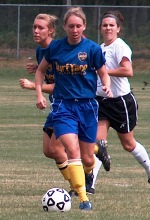 The Jersey Shore Boca U23 women's team played the return leg of their home and home Mid-Atlantic Summer Showcase League series against the Den of Lions U23 side on Wednesday night under the lights at Westside Park in Newark with the Boca women coming out on top 3-1. Boca improves to 4-0-2 and moves into first place in the MSSL regular season standings.
Boca Women Sweep Series
U23 team moves into first place in MSSL standings
NEWARK, NJ (June 19, 2008)-The Jersey Shore Boca U23 women's team played the return leg of their home and home Mid-Atlantic Summer Showcase League (MSSL) series against the Den of Lions U23 side on Wednesday night under the lights at Westside Park in Newark with the Boca women coming out on top 3-1.
After Boca allowed a Den of Lions goal in the eighteenth minute off a defensive miscue, Kutztown University's Jennifer Tice (Barnegat) opened her Boca account in the thirty-second minute off a feed from Monmouth University's April Damurjian (Wall) from twenty yards out.
The eventual game winner started in the fifty-seventh minute when Boca's Erin Cunliffe (Lakewood) sprinted 30-yards down on the right side with the ball past two DOL defenders.
The College of New Jersey rising senior then cut back and sent a ball right to the feet of a streaking Andrea Lopez (Oakhurst) inside the penalty area.
Lopez, who will be a junior at Monmouth University this fall, buried her one-touch shot past a diving Den of Lions keeper.
The Boca women received an insurance goal two minutes later when Cunliffe tallied off an assist from Kutztown University's Trystin Fiegel (Middlesex).
The Boca U23 women previously defeated the Den of Lions 3-1 at the John Patrick Sports Complex in Lakewood on June 11.
With the win Boca improves to 4W-0T-2L (12 points) and moves into first place in the MSSL regular season standings ahead of second place holders TSF Academy (8 points).
After a bye week, the Boca women will return to league action on July 29.
The Boca U23 summer soccer program is officially sponsored by Surf Taco, a popular Mexican themed restaurant chain with seven locations throughout the jersey shore.
The Jersey Shore Boca Soccer Club has been a fixture in the soccer community since 1978 and is one of the most respected soccer clubs on the East Coast.
The Club is celebrating their 30-year anniversary in 2008.
For more information about all Jersey Shore Boca programs visit the Club's official web site at www.jerseyshoreboca.com
news