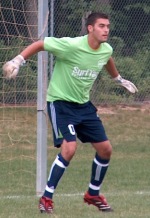 The NJAC announced on Wednesday that Rowan University junior shot-stopper and Jersey Shore Boca U23 standout Charlie Cunliffe was named the NJAC men's Goalkeeper of the Year for the 2009 season as determined by a vote of the league's 10 head coaches. Cunliffe has been a member of the Boca U23 program the past three years and is also a veteran of several Boca youth teams during his career.
Boca's Cunliffe Named NJAC Keeper of the Year
U23 standout honored by conference coaches
Goalkeeper leads Rowan to NJAC Finals
PITMAN, NJ (November 8, 2009) – The New Jersey Athletic Conference (NJAC) announced on Wednesday November 4 that Rowan University junior shot-stopper and Jersey Shore Boca U23 standout Charlie Cunliffe (Lakewood) was named the NJAC men's Goalkeeper of the Year for the 2009 season as determined by a vote of the league's 10 head coaches.
Throughout twenty games this season, the former Lakewood Piner has totaled 123 saves and seven shutouts and leads the conference with an 86.8 save percentage, which also ranks 19th in the NCAA Division III national statistics.
Cunliffe is second in the NJAC in saves (123) and saves per game (5.89) and is tied for second in shutouts (seven) and fourth in goals against average (0.91).
This is his first All-Conference selection.
Cunliffe made five saves in the NJAC conference men's championship on Saturday, November 7 as Rowan (13-6-2) lost 1-0 to Montclair State University (17-1-2).
Rowan must wait until Monday, November 9 to see if it receives an at-large bid to the NCAA Division III men's soccer national tournament.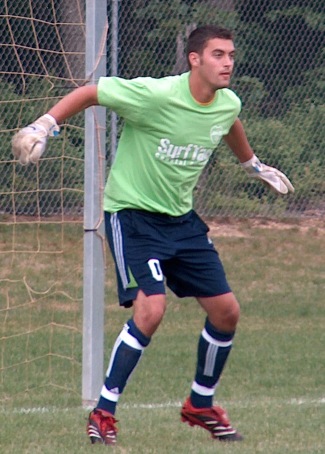 Jersey Shore Boca U23 goalkeeper Charlie Cunliffe sets himself for a shot in MSSL action at the John Patrick Sports Complex over the summer. Cunfille was named the NJAC Goalkeeper of the Year on Wednesday November 4 by a vote of the league's 10 head coaches.
"Charlie is one of the hardest working keepers that I have ever coached. His work rate is excellent and he reads the game well and makes good decisions. Our club seems to produce a solid, quality keeper from time-to-time who can play at the next level and Charlie seems to be heading in that direction" mentioned Boca's Walt Pericciouli who has coached Cunliffe over the past several years on various Boca teams.
Jersey Shore Boca has produced some of the top goalkeepers to have ever played between the pipes in the shore area including former Toms River East star and Kean University standout Shaun Graul (Toms River) who played professionally with the NJ Stallions of the United Soccer Leagues (USL); former Toms River East standout and current Kutztown University Head Women's Coach Eric Burstein (Toms River) who played professionally in the USL and in England; former St. Rose and St. Joseph's University standout Jim Keady (Belmar) who played professionally with the North Jersey Imperials of the USL and led St. John's University to an NCAA Final Four berth in men's soccer as an assistant coach and former Toms River East and Providence College star Chris Konopka (Toms River) who was drafted in 2007 by the Kansas City Wizards of Major League Soccer and is now playing professionally in Ireland.
Cunliffe has been a member of the Boca U23 program the past three years and is also a veteran of several Boca youth teams during his career.
Boca has been a fixture in the soccer community since 1978 and is one of the most respected soccer clubs on the East Coast.
The Club is celebrating their 31-year anniversary in 2009.
For more information about the Boca U23 teams and all other the Jersey Shore Boca programs logon to the Club's official web site at www.jerseyshoreboca.com
news