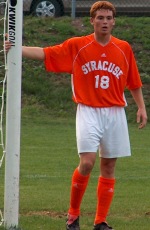 Jersey Shore Boca veteran defender and Toms River native Andrew Hawtin finished his college soccer career victorious Saturday evening as Syracuse defeated DePaul 1-0 in the final 2006 BIG EAST regular season game for both teams. The former Toms River High School East and Ocean County College standout started in 33 of 35 games in his two years at Syracuse and tallied 3 career assists.
Boca's Hawtin Ends Syracuse Career Victorious
Standout defender started 33 of 35 games in his two years with the Orange
SYRACUSE, NY (October 22, 2006) – Jersey Shore Boca veteran defender Andrew Hawtin (Toms River) finished his college soccer career victorious Saturday evening as the Syracuse University Orange defeated the DePaul University Blue Demons 1-0 in the final 2006 BIG EAST regular season game for both teams at the Syracuse University Soccer Stadium.
With the victory, Syracuse finished the year at 7-8-1 overall and 2-8-1 in the BIG EAST conference and tied the all-time series with DePaul (5-11-2 and 4-7-0 BIG EAST) at 1-1.
It marked the second time in the last three seasons Syracuse has posted a win in their season finale.
Hawtin, a 2003 Toms River High School East graduate who played four years under former Raider Coach John Crowley, started 33 of 35 games for the Orange over the past two seasons and tallied 3 assists.
Ironically, two of Hawtin's three assists, including the first of his Syracuse career in 2005, came against fellow long-time Jersey Shore Boca and Toms River East teammate goalkeeper Chris Konopka (Toms River) and Providence College.
Prior to transferring to Syracuse, Hawtin was a two-time All-Region and All-Conference selection while at Ocean County College for two years.
Hawtin, who will graduate Syracuse in 2007 with a degree in Geography, is one of seven Jersey Shore Boca standouts that took the field during 2006 for teams the BIG EAST Conference, one of the top Division I men's soccer conferences in the nation.
The six others include fellow Syracuse University teammate Tyler Stoviak (Malvern, PA); Seton Hall University's Justin McGrath (Brick) and Teddy Niziolek (Clifton); Rutgers University's Joey Sorrentino (Hamilton) and Jake Wienberg (Highland Park) and Providence College's Chris Konopka (Toms River)
Hawtin, Stoviak, McGrath, Niziolek and Konopka were all part of the Boca U23 team this past summer that advanced to the semi-finals of both the USASA U23 Regional Tournament and the MSSL Cup Championship.
Sorrentino and Weinberg were members of Boca's Super Y-League teams earlier in their careers.
"Andrew is a very special player, one of the most technically sound players I have ever had the opportunity to coach. His demeanor and determination both on and off the field is that of a leader. I'm positive he will be successful in whatever he chooses to do in the future. I am very happy for him and very proud to have had the opportunity to coach such a fine, outstanding young man" mentioned Walt Konopka, a member of the Jersey Shore Boca Board of Directors who also coached Hawtin on the Boca U23 team this past summer as well as during his youth career with the Club.
Hawtin was also a part of numerous Boca youth club teams during his high school years as well as the Boca Men's Open team during his two years while at OCC.
Jersey Shore Boca has over fifty club standouts who previously played for Boca on either their Men's, Super Y-League, PDL, Club or Youth teams that are participating in NCAA intercollegiate soccer this fall for their respective institutions either as players or coaches.
Jersey Shore Boca has been a fixture in the soccer community since 1978 and is one of the most respected soccer clubs on the East Coast.
The Club is celebrating their 28-year anniversary in 2006.
For more information on the Jersey Shore Boca Soccer Club, visit the Club's official web site at www.jerseyshoreboca.com
news