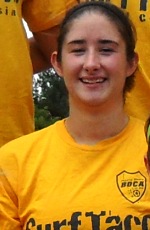 Jersey Shore Boca U23 women's standout Carolynne Kahl talks about her recovery from a severe knee injury and about her passion and determination to help her college team this season in this feature by Britney Reddick, Sports Information Assistant at Kutztown University. Kahl helped the Boca U23 women's team to a place in the Club record books when they captured their second consecutive MSSL Cup championship this past summer.
Kahl standing tall for Kutztown after rebounding from injury
By Britney D. Reddick
Sports Information Graduate Assistant
Kutztown University
Published October 12, 2010
KUTZTOWN, PA (October 12, 2010) – Snap. Crackle. Pop! Those were the horrific sounds that replayed in Carolynne Kahl's head whenever she remembered that dreadful day while being carried off the field by her teammates after her knee abruptly collapsed; shattering her chances of playing soccer last year.
Sighs of agonizing pain filled her voice, as she lay on the field while her soccer teammates Kelly Bushe, Jen Pyne, Jen Tice, and coaches tried to get her to move her knee and stretch her leg. Kahl tried to be optimistic as the throbbing and awful discomfort circulated around her knee, but she knew something wasn't right.
"After hurting my knee I knew that I would be able to play again," Kahl said. "My biggest fear was that after I got back to playing I would be slower, and that it was going to take forever to get back to the way I used to play. My biggest inspiration was proving to myself that things could always be worse, and that as soon as I am healthy enough to play again, I was going to go out and give it my all."
A year later, Kahl's revival has been essential to the Golden Bears. She is back in full force after recovering from a partially torn meniscus and a torn anterior cruciate ligament. Kahl leads the Golden Bears with five goals, two assists, and 15 shots on goal. However, she's not content with those statistics.
Kahl has bigger things in mind for Kutztown, which is currently ranked 23rd in the latest National Soccer Coaches' Association of America (NSCAA)/ HendrickCars.com top 25 poll.
"Finally, for the first time since last summer, I feel 100 percent on the field," Kahl said. "My goal is to try to match the nine goals I scored sophomore year," said Kahl. "We want to be ranked in the top 10 in the nation, make playoffs, and win the PSAC championship."
The way she has been moving up and down the field instinctively despite wearing a big black brace on her left knee, showing hustle and enthusiasm, those goals are getting closer to her and the Golden Bears.
The injury occurred before the start of preseason camp. Kahl was heartbroken, but understood that training and getting back healthy would mend her shattered heart.
Kahl knew that getting back to her playing level wouldn't be an overnight remedy. It was going to take more than tape, ice and bandages to heal her damaged knee. Her eagerness to get back on the field was displayed with endless trips to the rehab room for several procedures, exercises, and drills that slowly repaired her torn ligament.
"Carolynne took the knee injury pretty hard," Kutztown University head women's soccer coach Erik Burstein said. "She had worked so hard to prepare for the season and she was looking forward to a great year. She showed tremendous character and really worked hard to get back on the field again. She was not happy with just being back in a uniform or on the roster, she wanted to play, and she wanted to achieve a higher level of performance than ever before."
Moping around about her injury was the last thing on Kahl's mind, all she wanted to do was get back to the game she fell in love with at the age of eight.
"My first memory of soccer is playing U-8 and our team went undefeated," Kahl said. "I have a big blown up picture that hangs above my bed of the team, and it always reminds me of my first years playing, and how much I loved it!"
Those precious memories helped Kahl during her rehabilitation. She was determined to get healthy and contribute to her team. Playing with the fear of an injury happening again wasn't even an option. Kahl was going to give it her all.
She is a player who knows all about hard work and what it takes to get there. Kahl is an athlete of many trades. In high school, she scored 1,000 points in basketball, but soccer has always been her favorite sport.
Even as one of the top players in the Pennsylvania State Athletic Conference (PSAC), Kahl still craves the desire to learn more about the game.
"The most valuable thing that I have learned from coach is how to properly finish on goal," Kahl said. "As a freshman I came in thinking if I can kick the ball as hard as I can on goal, which is how you should shoot. Little did I know that shooting 'on frame, low, hard, in the corner, and across the face of goal' was going to be forever drilled into my head and help me with my shot to goal ratio increase over the years. It makes you a better goal scorer."
Kahl's baby steps in the Kutztown soccer program have already made an impact for the Golden Bears, who are on the verge of posting their eighth consecutive season with double-digit victories.
"Carolynne is a major reason this program continues to achieve great things," Burstein said. "Her development over the past three years has been spectacular and there is no question she is one of the most talented players we have ever had at KU. Her ability with the ball at her feet, her balance when taking players on in one on one situations, her power and accuracy when striking a ball from distance, and her natural goal scoring ability makes her a very dangerous player."
A threat on the field but as sweet as homemade apple pie off it, Kahl is the perfect definition of a team player.
"I love my team," Kahl said. "We are truly a family on and off the field. I have met some of my best friends on the team and have had some of the best memories with the team. There is never a dull moment, from coaches' jokes, to long bus rides, everyday there is always something new and funny to laugh at. I also love the university a lot; it's an all around nice campus and town. Everyone is very friendly."
The Golden Bears defeated Clarion, 1-0, in a Pennsylvania State Athletic Conference (PSAC) match to raise their season record to 9-3-1 overall. Kahl doesn't let any team intimidate her. Her love for the game and the school overpowers any doubts she may have.
"One of the biggest advantages that we have as a team is we take what coach teaches us at practice and use it in a game," Kahl said. "It's a big advantage to have team that is willing to learn from the coach. All around our team is very strong all over the field. When we are connecting passes and our first touches are on, it's very hard to outplay us."
In fact, outplaying Kutztown has been so hard; just three teams have even tagged Kutztown with a loss. As the playoffs loom on the horizon, the Golden Bears are looking to continuing to improve.
"Carolynne leads by example and is greatly respected by all the players in this program," Burstein said. "She has certainly earned that. She is top class on and off the field and she is a perfect ambassador for this program, our department, and this university. We are very fortunate to have her wearing the maroon-and-gold."
Kutztown University
Published October 12, 2010
news