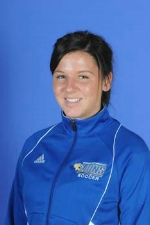 Jersey Shore Boca U23 women's standout and Georgian Court University sophomore forward Kelly Lyons has been selected to the Daktronics Inc. Third-Team All-American squad, which was announced earlier this month. Lyons, who hails from Jackson Memorial High School, was a member of the Boca U23 women's team this past summer which captured the 2009 MSSL Cup Championship.
Boca's Lyons Named All-American
U23 women's standout tabbed for second year
LAKEWOOD, NJ (December 21, 2009) – Jersey Shore Boca U23 women's standout and Georgian Court University sophomore forward Kelly Lyons has been selected to the Daktronics Inc. Third-Team All-American squad, which was announced earlier this month.
This is the second consecutive All-American accolade as Lyons earned Honorable Mention in her rookie season of 2008.
Lyons, a member of the 2009 Central Atlantic Collegiate Conference (CACC) First Team, put together another stellar campaign, netting a conference-leading 21 goals in 23 games (including eight over her last three games) to go along with seven assists for 49 total points.
The Jackson Township native tallied five multi-goal games, including her second career four-goal contest in a 5-0 rout of Wilmington University, October 27th.
The three-time CACC Player of the Week has posted back-to-back 20-goal seasons to begin her collegiate career, including 97 total points.
Lyons, the 2008 CACC Rookie of the Year, tallied 22 goals last season in leading GCU to the conference title.
The Daktronics Inc. All-American team is voted upon by the members of the College Sports Information Directors of America (CoSIDA).
Sports information directors from NCAA D-II schools and conferences selected the three Daktronics All-America teams.
Lyons, who hails from Jackson Memorial High School, along with fellow Georgian Court teammate senior Alley Abbate (Oceanport/Shore Regional were members of the Boca U23 women's team this past summer which captured the 2009 MSSL Cup Championship.
Boca has been a fixture in the soccer community since 1978 and is one of the most respected soccer clubs on the East Coast.
The club will be celebrating their 32-year anniversary in 2010.
For more information about the Boca U23 teams and all other the Jersey Shore Boca programs logon to the club's official web site at www.jerseyshoreboca.com
news