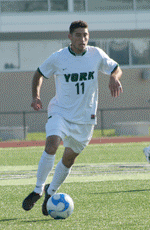 When York College lost in the Elite 8 round of the 2007 NCAA Division III Soccer Championship to Middlebury College last week, the much traveled college soccer career of Jersey Shore Boca veteran forward Jason Mancuso came to an end. The Boca standout started this season at York with a determined attitude and lit-up the Spartan scoreboard and gained individual accolades after it was all said and done.
Boca's Mancuso Caps College Career in Style
Standout striker now looks toward professional ranks
TOMS RIVER, NJ (December 1, 2007) – When the York College men's soccer team lost 2-0 in the Elite 8 round of the 2007 NCAA Division III Soccer Championship to Middlebury College on Nov 18, the much traveled college soccer career of Jersey Shore Boca veteran forward Jason Mancuso came to an end.
With one year of NCAA eligibility remaining, Mancuso transferred to York at the beginning of this year after falling out of grace from Central Connecticut State University while also taking a full year off from college soccer while between schools.
Prior to Central Connecticut, Mancuso starred locally for two years at Ocean County College.
The former Toms River North Marnier however, started this season at York with a determined attitude and professional demeanor and lit-up the Spartan scoreboard and gained individual accolades after it was all said and done.
Mancuso helped lead York in to a spectacular 2007 campaign posting a sparkling 21-3-1 record as the 21 victories tied a Spartan program record.
The Spartans made their second consecutive appearance in the Sectional round of the NCAA tournament in 2007.
Individually, Mancuso started all 24 games he played in this year and tallied 14 goals and 7 assists for 35 points placing him second on the team in overall scoring.
For his efforts, Mancuso garnered All-Capital Athletic Conference Second-Team honors.
"It is impressive that a new player can gain All-Conference honors" York Head Coach Mark Ludwig said about Mancuso.
"Jason has done well finding holes and being able to finish, has created chances and scored a couple of big goals for us" Coach Ludwig finished.
Prior to transferring to Central Connecticut, Mancuso was a two-time All-Region and All-Conference selection while at Ocean County College.
Mancuso was part of the Boca U23 team this past summer that advanced to the finals of Mid-Atlantic Summer Soccer League (MSSL) Cup Championship and was also a part of numerous Boca youth club teams during his high school years as well as the Boca Men's Open team during his two years while at OCC.
"I have to give Jason a lot of credit for his perseverance. He had some trying times during his college career but showed an extraordinary amount of personal dedication in order to make himself a better player and he finished his college career with success. He is one of the most prolific goal scorers I have ever had the opportunity to coach. I'm positive he will be successful in whatever he chooses to do in the future. I am very happy for him and very proud to have had the opportunity to coach such a fine, outstanding young man" mentioned Walt Konopka, a member of the Jersey Shore Boca Board of Directors who coached Mancuso on the Boca U23 team as well as for several years during his youth career with the Club.
Sixty-seven Jersey Shore Boca standouts including Mancuso who previously played for the Club on either their Men's, Women's, Super Y-League, PDL, Club or Youth teams, participated in NCAA intercollegiate soccer this fall representing their respective institutions as players and coaches in some of the top college soccer programs in the nation.
The sixty-seven mark the highest number ever of Jersey Shore Boca players and coaches to participate in NCAA intercollegiate soccer during the same season in the Club's twenty-nine year history.
Jersey Shore Boca has been a fixture in the soccer community since 1978 and is one of the oldest and most respected soccer clubs on the East Coast.
The Club will be celebrating their 30-year anniversary in 2008.
For more information on the Jersey Shore Boca Soccer Club, log on to the Club's official web site at www.jerseyshoreboca.com
news