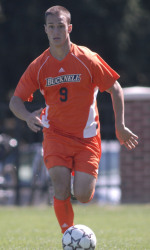 Before a record crowd of 1,202 at newly dedicated Holmes Stadium on the campus of Bucknell University on Saturday night, Jersey Shore Boca veteran midfielder and Bison senior co-captain Mark Schmiegel scored both goals in a 2-1 overtime victory over Navy in the Patriot League opener for both teams. The savy midfielder has been a member of the Boca U23 men's teams for the past five years including Boca's the record setting U23 team of 2006.
Boca's Schmiegel Lifts Bucknell Past Navy
Standout midfielder tallies game winner in overtime
LEWISBURG, PA (September, 27, 2008) – Before a record crowd of 1,202 at newly dedicated Holmes Stadium on the campus of Bucknell University on Saturday night, Jersey Shore Boca veteran midfielder and Bucknell senior co-captain Mark Schmiegel (Toms River) scored both goals in a 2-1 overtime victory over Navy in the Patriot League opener for both teams.
After Bucknell allowed the first goal, Schmiegel pocketed the equalizer at the 37th minute when he knocked in a loose ball from point blank range.
Bucknell's Chris Hennings set the play in motion with a run down the right side and a perfect cross to Luke Joyner in front.
Joyner played the ball down with his chest and kept it alive in traffic, setting up Schmiegel for the put-away to even the score.
The Bison won it 7:36 into sudden-death overtime with its sharpest passing combination of the night.
After a few combinations of successful Bucknell passes inside their attacking third, the final one found Schmiegel, who was wide open for the golden goal, his first OT goal since the 2006 NCAA Tournament against George Mason.
Schmiegel's multi-goal game was the first ever of his college career.
The crowd of 1,202 was the highest ever at the new facility, surpassing the total of 1,158 at last season's Bucknell-Lehigh match that was televised on the Fox Soccer Channel.
The Bison will be back in action on Wednesday at La Salle at 7 p.m., followed by a return to Patriot League play next Saturday afternoon at Holy Cross.
The 2005 Toms River North graduate has been a member of the Boca U23 men's teams for the past several seasons including Boca's the record setting U23 team of 2006.
Boca has been a fixture in the soccer community since 1978 and is one of the most respected soccer clubs on the East Coast.
The Club is celebrating their 30-year anniversary in 2008.
For more information about the Boca U23 teams and all other the Jersey Shore Boca programs logon to the Club's official web site at www.jerseyshoreboca.com
news