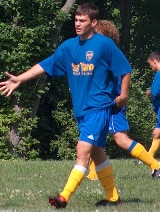 Sophomore midfielder Justin McGrath (Brick, NJ), a Jersey Shore Boca veteran and member of the Boca U20 team last summer, netted one goal for 20th-ranked host Seton Hall University in its 2-1 win over No. 24 Hartwick College in the NCAA Tournament First Round in front of a raucous crowd of 1,500 at Owen T. Carroll Field on Saturday afternoon.
Boca's McGrath Helps Hall Advance in NCAA College Cup
One of three Boca U20 players headed to the second round
SOUTH ORANGE, NJ (November 19, 2005) – Sophomore midfielder Justin McGrath (Brick, NJ), a Jersey Shore Boca veteran and member of the Boca U20 team last summer, netted one goal for 20th-ranked host Seton Hall University in its 2-1 win over No. 24 Hartwick College in the NCAA Tournament First Round in front of a raucous crowd of 1,500 at Owen T. Carroll Field on Saturday afternoon.
McGrath, a 2004 Monsignor Donovan graduate, fielded a cross in the center of the penalty area and sent a one-timer from inside the 6-yard box for a 1-0 lead 9:33 into the match for the Pirates (13-3-3).
It was the sixth goal of the season for the 5-foot-7, 140-pound McGrath, who has appeared in 19 matches, starting 18.
The Boca standout has handed out four assists en route to 16 points and has netted three match-winning goals.
It was the Pirates' first postseason win at home since 1992. Seton Hall will visit 11th-seeded Penn State on Tuesday at 7pm in the second round.
In addition to McGrath, two other Boca veterans Chris Konopka (Toms River) and Jon Curry-Edwards (Spring Lake Heights) will be heading the second round of the 2005 NCAA Division I Men's Soccer Championship as well.
Konopka, a 2003 Toms River East graduate, helped propel Providence College (7-3-9) to a 1-0 upset win against 13th-ranked Hofstra University in first round Tournament action Friday night advancing the Friars to face No. 2 seeded North Carolina University on Tuesday at Chapel Hill, N.C. at 6pm.
The standout goalkeeper has played all 1920:38 minutes in the net for the Friars this year allowing only 19 goals while making 87 saves. Konopka maintains a 0.89 GAA and .821 save percentage and becomes the first goalkeeper in Providence men's soccer history to post a win in a NCAA tournament game. His six shut-outs this season are the most for a Providence team since 1990.
The Friars have recorded one of the most improved records in NCAA history this year. Last season, Providence finished with a 0-16 record. They are 10 games better than last season, which is tied for the seventh best turnaround in NCAA history.
Providence also set an NCAA record by playing their 12th overtime game of the season.
Curry-Edwards, a 2004 St. Rose graduate, is a member of the nationally ranked Old Dominion University (15-3-2) men's soccer team that received a No. 10 seed in this years tournament, the highest in program history and receive their second consecutive first round bye. ODU will face Wake Forest University on Tuesday night at the Old Dominion Soccer Stadium.
The sophomore goalkeeper has been primarily used in a back-up roll behind senior All-American candidate John Connolly, appearing in one game.
Konopka, McGrath, and Curry-Edwards, all long-time Jersey Shore Boca veterans, were members of the Boca U20 team this past summer that advanced to the semi-finals of the USASA U20 Regional Championship as well as the semi-finals of the MSSL Cup Championship.
Jersey Shore Boca had a record fifty-five club standouts who previously played for Boca on either their Men's, Super Y-League, PDL, Club or Youth teams that participated in NCAA intercollegiate soccer this fall for their respective institutions.
This is the highest number of Jersey Shore Boca players to ever participate in NCAA intercollegiate soccer during the same season in the club's 27 year history.
Jersey Shore Boca has been a fixture in the soccer community since 1978 and is one of the most respected soccer clubs on the East Coast.
The Club is celebrating their 27-year anniversary in 2005.
For more information on the Jersey Shore Boca Soccer Club, visit the Club's official web site at www.jerseyshoreboca.com
news