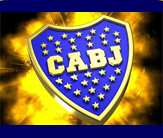 On Sunday April 3rd fifty-thousand passionate fans packed La Bombonera Stadium to celebrate Centennial Day celebration as Club Atletico Boca Juniors, one of the worlds most dominate professional soccer clubs became 100 years old. Jersey Shore Boca, which celebrates our own 27th year of existence this year, has been influenced since our beginning, by our namesake's style of play and passion for the sport.
A Century of Passion
April 3, 2005
Reprinted from bocajunions.com
The Boca family enjoyed a spectacular feast, unique and filled with emotion, as a part of the celebration of the day of its Centennial.
La Bombonera filled with at least 50,000 fans, old glories and contemporary players, conspicuous personalities from the world of art, fashion, and cinema, at the local as well as the international level, constituted a thrilling frame to the expected celebration.
The presence of the greatest idol of Boca's history, Diego Maradona, who entered the stadium holding the Centennial Torch in his hand, and a giant screen 100 meters wide and 12 meters high were the main attractions of the night.
Images of the history of the Club's 100 years and simultaneous world events from humanity's history were projected on the screen. This travelogue through time, with its joys, griefs, and the passion transmitted from one generation to the next, appropriately ended on April 3 of 2005 – Centennial day.
The event also featured renowned artists with close ties to Boca's colors who sang on the stadium's stage: Juan Carlos Baglietto –one of the great successes of the night -, Lito Vitale, Pedro Saravia, Fabiana Cantilo, Cucho, the Los Auténticos Decadentes, Pedro Aznar and Sandra Mihanovic (who sang as a duett), among others.
In turn, Jairo, Saravia, Raúl Lavié, and the other invited artists sang the National Anthem.
Entertainer and journalist Ari Paluch, the master of ceremonies of the event, introduced the present players of Boca's first division team one by one, and the Management Committee gave each one the Centennial Medal.
The same medal was handed out to more than 100 conspicuous former players of the Club, among them Angel Clemente and Alfredo Rojas, Marzolini, Rattín, Peruvian Nolberto Meléndez, Roma, Borello, Varallo, Suñé, Melgar, Pernía, Cabañas, Krasosky, Berta, Mac Allister, Marchesini, Graciani, etc.
All of them united by their love for the Boca jersey.
To top off the event a fireworks show lit up Boca's sky, so that this night remain engraved in the memory of every member of the Boca family.
news