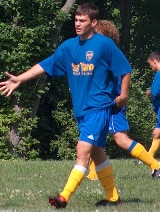 Jersey Shore Boca veteran and Seton Hall rising senior Justin McGrath is one of several shore area standouts that have raised the Boca U23 program to new heights during the past several years. Boca announced today that the club will be entering 2 teams in the Mid-Atlantic Summer Showcase League this summer and is searching for the top men's and women's college age players from the shore area to join the club.
Calling All College Players
Jersey Shore Boca seeks top college age men and women for U23 teams
Tryouts to begin
TOMS RIVER, NJ – The Jersey Shore Boca soccer club announced today that the Club will be entering two teams in the Mid-Atlantic Summer Showcase League (MSSL) this summer and is searching for the top men's and women's college age players from the shore area to join the Club for 2007.
Boca will field both a U23 men's and U23 women's team this summer as the Club participates as one of the inaugural founding members of MSSL for the fourth consecutive year.
All college age players and high school seniors who are born on or after August 1, 1983, are eligible to participate on the Boca summer teams provided they have not signed a professional contract with the US Soccer Federation.
All interested players should to log on to Club's official website at www.jerseyshoreboca.com and submit their soccer background along with any playing references.
Selected players will be invited to attend initial tryouts for Boca MSSL teams starting in February and March.
MSSL is a fourth year regional soccer league fostering high-level competition during the summer months at both the youth and adult ages in both men's and women's divisions.
The adult level of MSSL is specifically designed for collegiate players under the age of twenty-three and is fully sanctioned by the United States Adult Soccer Association (USASA), the national governing body for adult amateur soccer.
Boca's MSSL home league games for 2007 will be played at the new John Patrick Sports Complex in Lakewood.
"During our Club's history, we have always provided a competitive environment for our college players to stay active over the summer months when they return to the shore. MSSL allows us to continue our college-age program this year at the highest level of soccer available with the most affordable cost. This is not a Sunday tavern league. There are very good players in this league and excellent soccer is played as we have seen over the past three years" said Walt Konopka, a member of the Jersey Shore Boca Board of Directors who runs the U23 summer program.
"Add the fact that we will be forming a women's team this year, we will be playing all our home games at the new John Patrick Sports Complex in Lakewood and are planning to schedule some extraordinary exhibition games for all teams during the season, makes this summer's college program even more exciting" Konopka added.
In 2006, the Boca U23 men's team finished with an overall record of 16-5-1 which included a 10 game league unbeaten streak and second place finish in the MSSL regular season and semi-final appearances in both the U23 USASA Regional Tournament and MSSL Cup Championship.
During 2005, the Boca U20 men's team also advanced to the USASA Regional Tournament semi-finals as well as the MSSL Cup Championship semi-finals while finishing fifth overall in league play.
And recently, two members from Boca's U23 MSSL team last summer, Chris Konopka (Toms River), goalkeeper from Providence College and Teddy Niziolek (Clifton), midfielder from Seton Hall University, were selected by Kansas City and Columbus of Major League Soccer in the MLS 2007 Supplemental Draft held on January 18th.
Konopka was selected by the Wizards in the 3rd round as the 29th overall pick while Niziolek was tabbed by the Crew in the 4th round as the 41st overall pick.
The Jersey Shore Boca summer soccer program is officially sponsored by Surf Taco, a popular Mexican themed restaurant chain with locations throughout the jersey shore.
Boca has been a fixture in the soccer community since 1978 and is one of the most respected soccer clubs on the East Coast.
The Club is celebrating their 29-year anniversary in 2007.
news