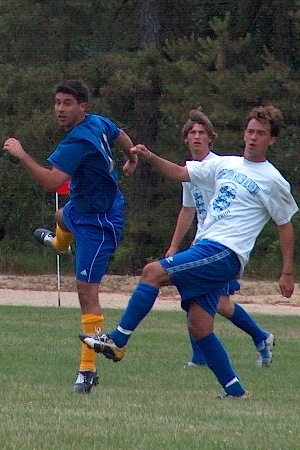 The Jersey Shore Boca men's U23 team picked-up their first win of the 2005 Mid-Atlantic Summer Showcase Season on Sunday afternoon against the Winslow Soccer Club from South Jersey as Ryan Campbell tallied the eventual game winner mid-way through the first half at the Manchester Soccer Complex in Manchester Township. In the 2nd game of the afternoon the Boca U20s recorded their 2nd shut-out of the MSSL season and improved to 3-2-0.
Campbell Leads Boca U23s To First Win Of MSSL Season
Perez and Schmiegel tally goals for U20s in shut-out
MANCHESTER TWP, NJ (June 19, 2005) – The Jersey Shore Boca men's U23 team picked-up their first win of the 2005 Mid-Atlantic Summer Showcase Season on Sunday afternoon against the Winslow Soccer Club from South Jersey as Ryan Campbell (Pt. Pleasant) tallied the eventual game winner mid-way through the first half at the Manchester Soccer Complex in Manchester Township.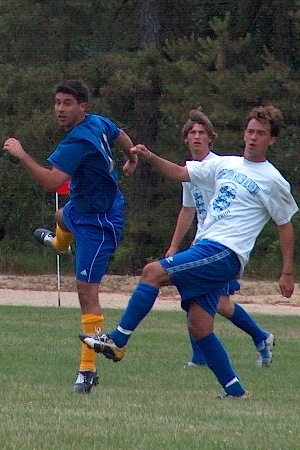 Ryan Campbell battles for a ball in the first half against two Winslow players. Campbell tallied the first goal of the game which helped the Boca U23s to their first win of the MSSL summer season.
Campbell, who played in ten games for Monmouth University last year as a junior before injuring his knee, received a cross at the top of the penalty area about twenty-five yards out from Bandon McGauley (Lacey Township).
The former Point Pleasant Boro standout settled the ball, took a few touches and then beat the Winslow keeper to the far post for the only score of the half.
Winslow showed a gritty determination through-out the entire game and battled Boca end to end to keep the game with reach but could not capitalize on several scoring opportunities afforded to them.
Boca received an insurance goal from Justin Fuccello (Brick) with less than a minute to play as he won a ball thirty yards out, dribbled by a Winslow defender and beat the keeper low and to his right.
The Boca U23s improve to 1-4-0 on the season while Winslow falls to 0-4-0.
In the second game on the afternoon, the Boca U20s received two goals from Andrew Perez (Brick) and a goal and assist from Mark Schmiegel (Toms River) as Boca topped Voorhees 3-0 to improve to 3-2-0 in the summer season.
Boca U20 goalkeeper Chris Konopka (Toms River) picked up his second consecutive shut-out of the season.
The Mid-Atlantic Summer Showcase League is a second year regional soccer league fostering high-level competition during the summer months at both the youth and adult ages in both men's and women's divisions.
The adult level of MSSL is specifically designed for collegiate players under the age of twenty-three and is fully sanctioned by the United States Adult Soccer Association (USASA), the national governing body for adult amateur soccer.
Jersey Shore Boca was one of the inaugural founding members of MSSL last year entering one U23 team that finished in seventh place in the standings out of ten teams with an overall league record of 2 wins 6 losses and 1 tie.
The Jersey Shore Boca men's summer soccer program is officially sponsored by Surf Taco, a popular Mexican themed restaurant chain based in Point Pleasant Beach.
Boca has been a fixture in the soccer community since 1978 and is one of the most respected soccer clubs on the East Coast.
The Club is celebrating their 27-year anniversary in 2005.
For more information about the Boca U23 and U20 teams and all other the Jersey Shore Boca programs visit the Club's official web site at www.jerseyshoreboca.com
news