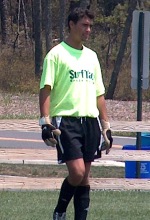 Boca U23 standout Charlie Cunliffe was named the men's soccer NJAC Defensive Player of the Week for the week ending October 4 as announced today by conference officials. Cunliffe, a junior keeper at Rowan University, earns the NJAC honors after producing back-to-back shutouts in a pair of NJAC victories for the Profs. He has been a member of the Boca U23 program the past three years.
Cunliffe Nabs Weekly Honors
Boca U23 keeper named NJAC Defensive Player of the Week
PITMAN, NJ (October 5, 2009) – Jersey Shore Boca U23 standout Charlie Cunliffe (Lakewood) was named the men's soccer New Jersey Athletic Conference (NJAC) Defensive Player of the Week for the week ending October 4 as announced today by conference officials.
Cunliffe, a junior goalkeeper at Rowan University, earns the NJAC honors after producing back-to-back shutouts in a pair of NJAC victories for the Profs.
He opened the week by collecting eight saves in 90 minutes of action during Rowan's 1-0 victory over NJAC rival Richard Stockton.
Cunliffe then wrapped up the week by notching four saves in 90 minutes of play for his second shutout in a three-day span, a 1-0 NJAC road win at Ramapo.
The former Lakewood Piner shot-stopper has started all 11 games this season leading Rowan to a 7-3-1 record allowing only 10 goals for a 0.98 goals against average and currently ranks third in the NJAC in save percentage (.848).
Cunliffe has been a member of the Boca U23 program the past three years and is also a veteran of several Boca youth teams during his career.
Boca has been a fixture in the soccer community since 1978 and is one of the most respected soccer clubs on the East Coast.
The Club is celebrating their 31-year anniversary in 2009.
For more information about the Boca U23 teams and all other the Jersey Shore Boca programs logon to the Club's official web site at www.jerseyshoreboca.com

news