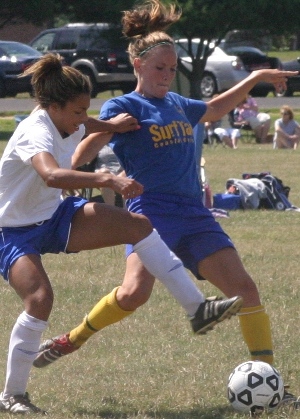 TCNJ senior midfielder Erin Cunliffe is in the middle of the final season of her collegiate soccer career and the Jersey Shore Boca U23 standout is making the most of her time on the pitch this year. Cunliffe is a two-year member of the Boca U23 women's team which advanced to the USASA U23 Regional Tournament for two consecutive seasons while also making it to the MSSL Cup Championship in 2007.
Cunliffe Stars For TCNJ
Boca standout helps Lions to 5-1 start and number 1 ranking
EWING, NJ (September 21, 2008) – College of New Jersey senior midfielder Erin Cunliffe is in the middle of the final season of her collegiate soccer career and the Jersey Shore Boca U23 standout is making the most of her time on the pitch this year.
Cunliffe, who hails from Lakewood, is one of the shining stars for the Lions this season as she has helped her team to a 5-1 start and a number 1 ranking in the country for women's Division III teams by the National Soccer Coaches Association of America (NSCAA).
The three-year letter winner has played in all six games for the Lions this season tallying 3 goals and 2 assists to date.
Cunliffe is also currently tied for second on the team in scoring with 8 points and has fired 14 shots at opponents.
The Lakewood alum also tallied the first game winning goal of her career against Haverford College (PA) on September 13.
Heading into this season, Cunliffe has played in 47 career games for TCNJ, scored 11 goals and assisted 4 times.
Cunliffe is a two-year member of the Boca U23 women's team which advanced to the USASA U23 Regional Tournament for two consecutive seasons while also advancing to the MSSL Cup Championship in 2007.
Boca has been a fixture in the soccer community since 1978 and is one of the most respected soccer clubs on the East Coast.
The Club is celebrating their 30-year anniversary in 2008.
For more information about the Boca U23 teams and all other the Jersey Shore Boca programs logon to the Club's official web site at www.jerseyshoreboca.com
news