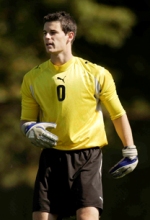 Boca alum and University of Delaware senior goalkeeper Jon Curry-Edwards has been honored for his work in the classroom by being named to the Colonial Athletic Association Commissioner's Academic Honor Roll for the fall semester. Curry-Edwards, a Spring Lake Heights native and St. Rose High School graduate, was a veteran member of the Boca U23, U20, Super Y-League and youth club teams throughout his career.
Curry-Edwards Honored by CAA
Boca goalkeeper named to Academic Honor Roll
DOVER, DE (February 28, 2008) – Jersey Shore Boca alum and University of Delaware senior goalkeeper Jon Curry-Edwards has been honored for his work in the classroom by being named to the Colonial Athletic Association Commissioner's Academic Honor Roll for the fall semester.
To be eligible, student-athletes must be a member of a UD falls sports team, have appeared in at least one game or meeting during the 2007 season, and carry a 3.2 or better grade index during the fall or for their cumulative career at Delaware.
The standout keeper proved to be a vital part of Coach Ian Hennessy's Blue Hens for the past two years after his transfer from Old Dominion University before the 2006 season.
"Jon did well for us this year. He has a terrific work-ethic and made some terrific saves for us this year in some key games. He is very much liked by the players and his demeanor off the field has been as important in creating a new culture here at a program that has struggled in the past" mentioned Hennessy, a former Seton Hall University All-American.
"Jon is also a terrific student boasting one of the teams best GPA's. All in all, he has been a super pick-up for us and I count myself lucky to have had him" the Delaware coach concluded.
Curry-Edwards was a member of the Boca U23 and U20 teams that advanced to the semi-finals of the USASA Regional Championships as well as the semi-finals of the MSSL Cup Championship.
The Spring Lake Heights native and 2004 St. Rose High School graduate is also a long-time member of the Jersey Shore Boca youth program and played on Boca's Super Y-League teams earlier in his career.
Sixty-seven Jersey Shore Boca club standouts, including Curry-Edwards, who previously played for the Club on either their Men's, Women's, Super Y-League, PDL, Club or Youth teams, participated in NCAA intercollegiate soccer during 2007 representing their respective institutions as players and coaches in some of the top college soccer programs in the nation.
The sixty-seven mark the highest number ever of Jersey Shore Boca players and coaches to participate in NCAA intercollegiate soccer during the same season in the Club's thirty-year history.
Jersey Shore Boca has been a fixture in the soccer community since 1978 and is one of the oldest and most respected soccer clubs on the East Coast.
The Club is celebrating their 30-year anniversary in 2008.
For more information on the Jersey Shore Boca Soccer Club, log on to the Club's official web site at www.jerseyshoreboca.com
news