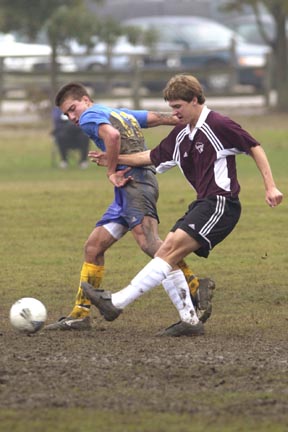 Boca's Joe Culter (left) shields off a defender at the CASL Raleigh Shootout on his way to the goal. Cutler, a standout forward who also hails from Southern Regional High School, announced today that he will continue his soccer and academic career at Rider University in the fall.
Cutler Picks Rider University
Goal scoring forward to continue career with Broncs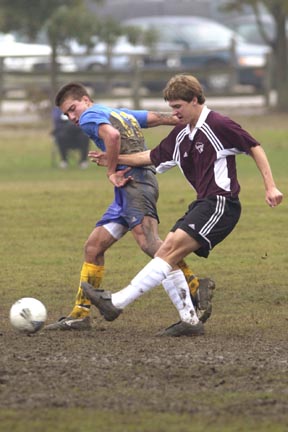 Joe Cutler (left) shields off a defender at the CASL Raleigh Shoot-Out on his way to the goal. He chose Rider over several other schools who were recruiting him. Photo by MPV Photos, NC
TOMS RIVER, NJ (January 18, 2004) – Joe Cutler, a long-time member of the Jersey Shore Boca soccer club announced today that he has verbally committed to attend Rider University and will continue his soccer and academic career under Broncs Coach Russ Fager at the Metro Atlantic Athletic Conference (MAAC) Division I school in the fall.
The senior forward from Southern Regional High School chose Rider over Wofford College (NC), Randolph-Macon College (VA), Muhlenberg College (PA) and Stevens Institute of Technology (NJ) among others who were recruiting him.
He expects to sign a National Letter of Intent next month when the 2004 NCAA men's soccer signing period begins.
Cutler joins fellow Boca teammate Danny Haydu as the first two members of Boca's senior class of 2004 to announce their college decisions. Haydu, a central defender from Toms River East High School, made a verbal commitment in December to continue his academic and soccer career at Monmouth University (NCAA Division I – Northeast Conference).
At the club level, Cutler is a veteran of the Jersey Shore Boca soccer club and youth program. He was also a member of the elite Super Y-League and competed with the Boca SYL teams against some of the top young soccer talent in the United States.
Cutler is a strong, quick forward who can score goals at will and is expected to play that same role for Coach Fager and the Broncs next year.
Throughout his club career, Cutler played a significant part in leading his Boca teams to prominence in various state, regional, and national competitions.
"Joe is one of the hardest working players I ever had the opportunity to coach. He always has his sights on getting off a shot or creating other opportunities for his teammates. He has a real forward's mentality, something that is hard to find in a player" said Walt Konopka, a Director with Jersey Shore Boca who also coached Cutler.
"I believe Joe has made a great choice in Rider. He is a mature young adult who has set some goals for himself. After some time to settle into the college life, Joe should be able to make a significant contribution for Coach Fager" finished Konopka.
At the high school level, Cutler was a three-year varsity starter for Coach Andy Kmosko and the Rams of Southern Regional. He was named team co-captain in his senior year.
Cutler finished his high school career with 48 career points (21 goals and 6 assists) which ranks him 15th overall in all-time total career points at Southern Regional.
He was also a two-time MVP for the Rams and received 1st Team All-County accolades in 2003 from the Soccer Coaches Association of New Jersey.
Cutler was also named to the 1st Team All A-South Division by the Shore Conference soccer coaches as a senior.
"Joe is an exceptional individual. I consider him to be one of the finest young men I have ever had the pleasure of working with in my 35 years in education" said Coach Kmosko who also teaches Health and Physical Education at Southern Regional.
"He is well respected by his teammates, classmates, faculty, and staff at Southern Regional. He is dedicated, honest, loyal, while always putting the needs of others first. I am extremely happy for him" Kmosko continued.
Academically Cutler maintains a 91.02 GPA at Southern Regional and ranks in the top 20% of his senior class of 660 students.
He plans to pursue a business or accounting major at Rider.
Rider University finished the 2003 men's college soccer season with an overall record of 2-15-2 and 1-6-2 in the MAAC Conference.
The Broncs advanced to the semi-finals of the 2003 MAAC men's soccer tournament before loosing to Saint Peter's of Jersey City 2-0.
Russ Fager just completed his 29th year as the Broncs head coach in 2003.
In 1997, Fager, the New Jersey Division I Coach of the Year for the second consecutive season, led Rider to the national top-20 with a ranking of 15 in the final National Soccer Coaches Association of America Division I Rankings.
The Jersey Shore Boca soccer club has been a fixture in the soccer community since 1978 and is one of the most respected soccer clubs in New Jersey. The club celebrated its 25-year anniversary in 2003.
The club will compete in the United Soccer Leagues elite Super Y-League for the fourth straight year in 2004.
Boca was also a member of the United Soccer Leagues Premier Development League in 2003.

news