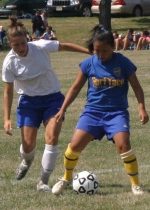 Jersey Shore Boca U23 standout and Centenary College senior forward Tanya DiDonna was named to the NSCAA All-Mid Atlantic Region Third Team and was also selected as Centenary College's Woman of the Year by the New Jersey Association of Intercollegiate Athletics for Women. DiDonna was a member of the inaugural Boca U23 women's team this past summer that advanced to the MSSL Championship Cup finals.
DiDonna Takes Two More Honors
U23 team standout named Women of the Year by NJAIAW
HACKETTSTOWN, NJ (February 29, 2008) – Jersey Shore Boca U23 women's standout and Centenary College senior forward Tanya DiDonna was named to the NSCAA All-Mid Atlantic Region Third Team and was also selected as Centenary College's Woman of the Year by the New Jersey Association of Intercollegiate Athletics for Women.
These awards add to a long list that DiDonna has compiled over her four years as a Lady Cyclone.
In 2007, the Colts Neck native was named to the PAC Conference First Team as well as earning the conference's All-Academic honor while also being named as PAC and ECAC Player of the Week.
In past years DiDonna was elected to All-Skyline Conference First Team twice in 2004 and 2005 and Second Team in 2006.
The four year starter and 2007 leading scorer recorded 32 career goals with more than half coming in her senior season.
She also recorded 17 assists in 2007 which was also good enough to lead the team.
Over her four years she tallied 81 total points for the Lady Cyclones.
The Boca U23 women's standout will be graduating this spring with a major in Business with a focus in Sports Management and Marketing.
DiDonna was a member of the inaugural Jersey Shore Boca U23 women's team this past summer that advanced to the Mid-Atlantic Summer Showcase League (MSSL) Champion Cup finals.
Sixty-seven Jersey Shore Boca standouts who previously played for the Club on either their Men's, Women's, Super Y-League, PDL, Club or Youth teams, participate in NCAA intercollegiate soccer this fall representing their respective institutions as players and coaches in some of the top college soccer programs in the nation.
The sixty-seven mark the highest number ever of Jersey Shore Boca players and coaches to participate in NCAA intercollegiate soccer during the same season in the Club's twenty-nine year history.
Jersey Shore Boca has been a fixture in the soccer community since 1978 and is one of the oldest and most respected soccer clubs on the East Coast.
The Club is celebrating their 30-year anniversary in 2008.
For more information on the Jersey Shore Boca Soccer Club, log on to the Club's official web site at www.jerseyshoreboca.com
news