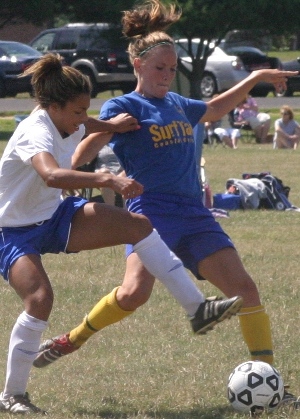 Two Boca standouts were honored for their efforts on the playing field and in the classroom as U23 players Erin Cunliffe (pictured) and Joni DeMoor were named to the CoSIDA's ESPN The Magazine Academic All-District 2 Teams today. Both Cunliffe and DeMoor were members of the Boca U23 women's team this past summer which advanced to the USASA U23 Regional Tournament for a 2nd consecutive season.
ESPN Tabs Cunliffe and DeMoor
Boca U23 standouts earn CoSIDA Academic All-District honors
NEW YORK, NY (October 30, 2008) – Two Jersey Shore Boca standouts were honored for their efforts both on the playing field as well as in the classroom as U23 players Erin Cunliffe, a senior from The College of New Jersey and Joni DeMoor, a senior from Monmouth University, were named to the CoSIDA's ESPN The Magazine Academic All-District 2 Teams as announced today.
DeMoor (Wayne, NJ) was named to the second team while Cunliffe (Lakewood, NJ) earned a spot on the third team.
Cunliffe, an art teaching major with a 3.55 GPA, leads TCNJ in goals this fall with a career-best 10 and is tied for the team lead in points with 22.
The senior forward has also chipped in with a pair of game-winning goals.
The Lakewood alum has also garnered various other academic honors throughout her career as she is a three-time TCNJ Scholar-Athletes and has twice been named NJAC Academic All-Conference Honorable Mention.
Cunliffe and the Lions are 11-5-1 on the season and will host William Paterson University in the opening round of the NJAC Tournament this Saturday, November 1 at 6pm.
DeMoor, who has a team-high 29 points, behind 13 goals and three assists, sports a 3.32 GPA in Social work at Monmouth.
Monmouth (13-2-1 overall and 6-1 in league play) also received national recognition by Soccer Buzz Magazine once again this week, equaling a program-best, as the Hawks are ranked 11th in the Mid-Atlantic Region.
DeMoor, who has registered five game-winning goals on the season, currently ranks 16th in the NCAA in goals per game (0.813) and 22nd in points per game (1.81).
Monmouth, which secured a berth in the 2008 Northeast Conference Tournament and has earned bids in a league-best 10 postseasons, returns to action on Friday, October 31, when DeMoor and the Hawks travel to Wagner, for an NEC battle at 3pm.
Cunliffe and DeMoor were members of the Boca U23 women's team this past summer which advanced to the USASA U23 Regional Tournament for the second consecutive season.
Boca has been a fixture in the soccer community since 1978 and is one of the most respected soccer clubs on the East Coast.
The Club is celebrating their 30-year anniversary in 2008.
For more information about the Boca U23 teams and all other the Jersey Shore Boca programs logon to the Club's official web site at www.jerseyshoreboca.com
news