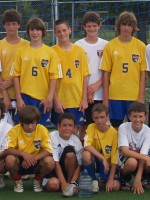 Although most of the players he presently coaches are just entering high school, long-time Jersey Shore Boca veteran Guy Lockwood, current head coach of the Boca U15 boys team wanted to give his young "students of the game" a chance to look into their soccer futures a bit last month and to evaluate their possible future abilities in a college setting.
For The Good Of The Players
Boca's Lockwood helps young shore area soccer players gain insight into the college game and beyond
TOMS RIVER, NJ (August 21, 2006) – Although most of the players he presently coaches are just entering high school, Guy Lockwood, coach of the Jersey Shore Boca U15 boys team wanted to give his young "students of the game" a chance to look into their soccer futures a bit last month and to evaluate their possible future abilities in a college setting.
Lockwood, a long-time Boca veteran and current captain of the Boca Men's Semi-Pro squad who also starred at Southern Regional HS and Monmouth University before playing professionally in the United Soccer Leagues, coordinated a joint venture with players from Boca and the Toms River Youth S.C. U15 Red Bulls and attended an invitation only weekend of training and college preparation seminars from July 22-23 at Wesley College in Dover, Delaware.
Wesley College coaches Steven Clarke and Nitan Soni conducted seminars for the fifteen year olds on college preparation and administered college level on-field training sessions while observing and instructing the potential future college stars in numerous games throughout the weekend.
The Hunterdon Soccer Club U15 Select team from Central Jersey, which plays in the Mid-Atlantic Premiere Soccer League (MAPS) with Boca, was the other invitee for the weekend.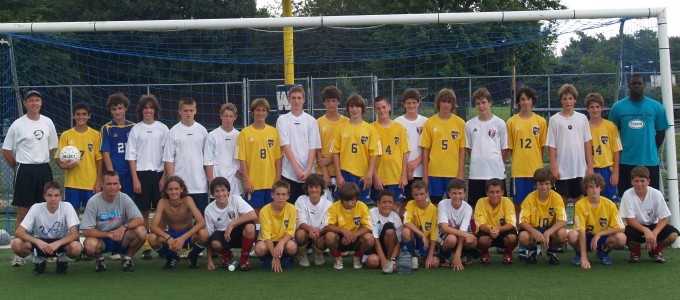 Jersey Shore Boca coach Guy Lockwood (bottom row-2nd from left) and members of his Boca U15 team along with players from the Toms River Youth SC Red Bulls and Hunterton Soccer Club Select teams pose for a group picture on the last day of training at Wesley College in Delaware.
"The alliance of the Boca and TRYSC U15 programs provides unlimited opportunities for driving player development. The Wesley College weekend was the first of many this program will be involved in to expose players to the next level. Jersey Shore Boca and TRYSC Red Bulls give special thanks to Wesley College Coaches Steven Clarke and Nitan Soni and the Hunterdon Select program, managed by Dan Hendi" mentioned Lockwood.
Jersey Shore Boca and the Toms River Youth S.C Red Bulls also participate in the Monmouth-Ocean Soccer Association (MOSA) for regular league play.
The joint venture between Lockwood's Boca team and Toms River Youth S.C. Red Bulls, in attending the Wesley College event, was the first event of many planned between the two teams to help these younger shore area soccer players develop to their maximum potential.
Although Lockwood's Boca team and Toms River Youth S.C. Red Bulls will be continuing down their separate paths in league play in MOSA this fall, players will be identified, evaluated and combined for other events such as MAPS League play, Tournaments and College Showcases.
In addition, players from both teams, under Lockwood's direction, volunteered this past week to instruct players, ages 4-8, at the Barnegat Soccer Club Annual Camp.
Players training under Lockwood include, Jeffrey Algor, Spring Lake Heights; Greg Augustino, Ocean Grove; Read Capron, Island Heights; Erik Cunningham, Barnegat; Kevin Geoghegan, Bayville; Christopher Hayes, Brick; Matt Hertgen, Toms River; Cody Kirk, Manahawkin; TK Kleber, Beach Haven; Neil Larsen, Lanoka Harbor; Sean Lockwood, Manahawkin; Daniel Mackin, Tinton Falls; Hugh Riley, Tinton Falls; Edward Siciliano, Barnegat; Robert Solorzano, Manahawkin; Jordan Subai, Toms River; Steven Van Erde, Forked River; Neal Zucker, Bayville; Thomas Boyd, Toms River; Vincent Bruno, Toms River; Chris Bundy, Toms River; Dan Chrashewsky, Toms River; Ben Drake, Spring Lake Heights; Richard Etting, Forked River; Corey Flohs, Toms River; Joseph Griggs, Brick; Tyler Mako, Toms River; Andrew Phillips, Browns Mills; Paavo Prima, Toms River; Zach Sanders, Toms River; Jeff Scheck, Toms River; Russel Simms, Brick; Natale Valenza, Toms River and Tyler Wynn, Toms River.
"Guy has always held an extreme passion for the game as a player at every level beginning with his days playing for Andy Kmosko at Southern. He was a fierce but always humble competitor. He now is sharing that passion along with his personal playing experiences with our youth soccer players here in the shore area to help them try to achieve their own goals in their soccer careers. He is a fantastic teacher of the game who always wants to give something back. That's typical Lockwood" mentioned Walt Konopka, a member of the Jersey Shore Boca Board of Directors.
Lockwood will have a tough choice as to what sideline to be on come September 10th as his Boca team will square-off against his Toms River Youth S.C. Red Bulls in a Monmouth-Ocean Soccer Association regular league game in Toms River.
Jersey Shore Boca has been a fixture in the soccer community since 1978 and is one of the most respected soccer clubs on the East Coast.
The Club is celebrating their 28-year anniversary in 2006.
For more information about the Boca U15 team and all other the Jersey Shore Boca programs logon to the Club's official web site at www.jerseyshoreboca.com
news