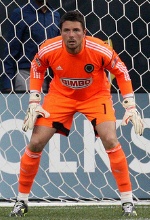 The Philadelphia Union of MLS gave Toronto FC their first win of the season with a 1-0 loss Saturday afternoon but not before Toms River native and former Jersey Shore Boca standout Chris Konopka gave Philly a fighting chance up until the referee's final whistle. The Boca alum turned in a strong and gutsy performance between the pipes in his Union league debut in front of 18,277 fans at BMO Field.
Former Boca Keeper Strong in 1-0 Loss to Toronto
Toms River native comes up big several times to keep Philly in the match
TORONTO, ON- (May 26, 2012) – The Philadelphia Union of Major League Soccer gave Toronto FC their first win of the MLS season with a 1-0 loss at BMO Field Saturday afternoon in front of 18,277 fans, but not before Toms River native and former Jersey Shore Boca standout Chris Konopka gave Philly a fighting chance up until the referee's final whistle ended the match turning in a strong, confident and gutsy performance between the pipes in his Union league debut.
Konopka looked confident in stopping six shots but could do nothing about Danny Koevermans' goal in the 88th minute as Toronto FC picked up its first win of season that snapped a nine-game skid.
"It's frustrating. I know the first half wasn't really going our way but at the end of the day we let in a goal in the 88th minute. When it gets that deep in the game you try any way you can to grind out a result," said Konopka, who saw his first action of the season. "It's frustrating that we didn't get to do that today."
Konopka got a piece of Koevermans' original close-range effort but the ball rebounded to the big Dutch National Team player and Konopka couldn't stop the follow-up.
"It probably could have bounced anywhere off my leg but it bounced right back to him and he was able to get the rebound back," said Konopka.
"It's frustrating on that too in that we come up with a bit of a save and really anywhere that it bounces it would probably go out of bounds anywhere and then it goes right on his foot."
The Union (2-7-2) were still in the game at that point because of Konopka's solid work and wasteful finishing by Toronto.
It was Konopka's first start of the season.
Philadelphia coach Peter Nowak was not pleased with his team's performance against Toronto but added that Konopka gave his team a chance.
"He helped us in a couple of crucial situations in the first half and in the second half as well," Nowak said.
Union midfielder Gabriel Farfan said his team knew Konopka would be ready to go under difficult circumstances.
"He was big time today," Farfan said. "I think a lot of guys that haven't played are ready to step up when they're given the opportunity and he showed that."
The six-foot-five Konopka, who also holds Polish citizenship, signed with the Union in March after playing last season with New York Red Bulls.
Prior to that, the 27-year-old played three seasons in Ireland.
A 2003 Toms River East High School graduate, Konopka played college soccer at Providence College, finishing third all-time in most games played and leading the Friars to three straight BIG EAST Championship Semi-Finals and two straight NCAA Tournaments.
In 2006, he garnered Second Team All-BIG East honors.
The Union play the Rochester Rhinos at PPL Park in a US Open match on May 29. Philadelphia's next league game in June 16 at home to D.C. United. Toronto's next game is at Sporting Kansas City on June 16.
A long-time Jersey Shore Boca Soccer Club veteran, Konopka was a member of Boca's youth system, Super Y-League, U20 and U23 teams throughout his career as well as a member of Boca's Premiere Development League team in 2003.
The Jersey Shore Boca Soccer Club has been a fixture in the soccer community since 1978 and is one of the oldest and most respected soccer clubs on the East Coast.
Boca is celebrating their 34-year anniversary in 2012.
For more information on the Jersey Shore Boca Soccer Club, visit the Club's official web site at www.jerseyshoreboca.com.