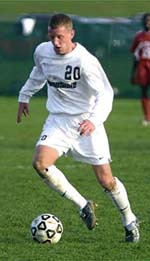 Major League Soccer announced last week that former Jersey Shore Boca PDL player Chad Severs was selected to participate in the 2005 adidas MLS Player Combine which will be held for the second consecutive year at The Home Depot Center in Carson, California from January 8-11, 2005.
Former Boca PDL Player Selected For MLS Combine
One of 66 Top College Seniors to Attend
NEW YORK, NY (January 2, 2005) – Major League Soccer announced last week the names of 66 college seniors, including former Jersey Shore Boca PDL player Chad Severs, who were selected to participate in the 2005 adidas MLS Player Combine which will be held for the second consecutive year at The Home Depot Center in Carson, California from January 8-11, 2005.
During the 2003 PDL season, the standout forward scored 3 goals and added 1 assist for Boca and finished second on Boca's PDL team in scoring that season.
MLS general managers and members of all 12 MLS coaching staffs will be in attendance to scout talent at the event leading up to the 2005 MLS SuperDraft.
The adidas MLS Player Combine will take place just a few days before the 2005 MLS SuperDraft, which will be held in Baltimore, Maryland on Friday, January 14 in conjunction with the National Soccer Coaches Association of America (NSCAA) Convention at the Baltimore Convention Center. Last year a total of 42 players who participated in the Player Combine were eventually selected in the 2004 MLS SuperDraft, in which a total of 60 players were drafted.
The field of players was determined by a select panel of Division I college coaches in conjunction with MLS coaches and the consultation of select Division II, Division III and NAIA coaches. A total of 47 colleges are represented, including teams from Division I, Division II, Division III and the NAIA.
Severs, who hails from Ocean City (NJ), finished his college career at Penn State University this year. He tallied 9 goals and 3 assists in 2004 to lead the Nittany Lions in scoring and a trip to the 2004 College Cup Sweet 16.
news