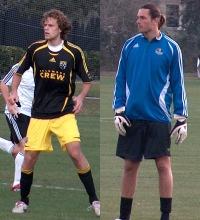 Former Boca U23 teammates Teddy Niziolek and Chris Konopka have settled in during the first two weeks of the 2007 MLS pre-season in Florida and are making some good impressions. Both were members of the Boca U23 team last summer that advanced to the semi-finals of both the 2006 USASA U23 Regionals and the MSSL Cup.
Former JSB Players Doing Well In MLS Pre-season
Niziolek and Konopka showing off their stuff in Bradenton
BRADENTON, FL (February 19, 2007) – Two former Jersey Shore Boca club standouts, Chris Konopka (Toms River), goalkeeper from Providence College and Teddy Niziolek (Clifton), midfielder from Seton Hall University have made some good impressions with their respective Major League Soccer teams during the first two weeks of the 2007 MLS pre-season training camp at the IMG Academy Complex in Bradenton, Florida.
Niziolek, who was drafted by the Columbus Crew as the 41st pick overall in the 4th round of the 2007 MLS Supplemental Draft, has played in three of the Crew's four pre-season games to date.
The former Pirate appeared in the central midfield in the Crew's 4-2 loss to DC United on February 11th as well as the Crew's 0-0 draw against the Chicago Fire on February 13th.
Niziolek also started and played 60 minutes in Columbus' 1-0 win over the Kansas City Wizards on February 16th.
Konopka, a long-time Jersey Shore Boca veteran, was also selected in 2007 MLS Supplemental Draft in the 3rd round as the 29th overall pick by the Kansas City Wizards.
The former Friar goalkeeper, who was recovering from a slight illness when he arrived at Bradenton after his trial with Charlton Athletic of the English Premiere League earlier this month, saw his first action coming on in the final 30 minutes against the Columbus Crew on February 16th.
Konopka, who has not allowed any goals during the pre-season, also played with KC's first eleven for 30 minutes in the Wizards 0-0 draw against DC United on February 18th corralling several dangerous crosses while making 2 saves.
The former Boca duo were members of the Boca U23 team this past summer that advanced to the semi-finals of the USASA U23 Regional Championship as well as the semi-finals of the MSSL Cup Championship.
Jersey Shore Boca had over fifty club standouts, including Niziolek and Konopka, who previously played for Boca on either their Men's, Super Y-League, PDL, Club or Youth teams that participated in NCAA intercollegiate soccer in 2006 for their respective institutions across the Unites States either as players or coaches.
Jersey Shore Boca has been a fixture in the soccer community since 1978 and is one of the most respected soccer clubs on the East Coast.
The Club is celebrating their 29-year anniversary in 2007.
For more information on the Jersey Shore Boca Soccer Club, visit the Club's official web site at www.jerseyshoreboca.com
news