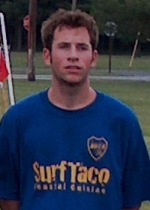 Andy Fraggos led Boca's U23 team this summer with 3 game winning goals, one of which occured in the MSSL Cup quarter-final game last Sunday in Lakewood against the NJ Rangers. John Bush of the Asbury Park Press features the Towson University junior in a recent article about the Marlboro resident on the time he spent this summer with the Boca U23 team.
Jersey Shore Boca's Fraggos often scores the big goals
Asbury Park Press – 08/3/06
BY JOHN BUSH
STAFF WRITER
The Jersey Shore Boca U23 men's team was struggling to score against the NJ Rangers FC Golden Hawks in the quarterfinals of the Mid-Atlantic Soccer Showcase League Cup championship on Sunday at Lakewood's John F. Patrick Sports Complex.
Enter the Garbageman.
That would be Andy Fraggos, who scored on a header 18 minutes into the second half to give Boca a 1-0 victory.
A Marlboro resident, Fraggos made a habit of delivering big goals for Boca throughout the summer. Of his seven goals, three were game-winners. He finished second on the team in goals behind Jason Mancuso.
"This summer's been good," Fraggos said. "I've been getting a lot of chances and getting a lot of shots on goal."
"He's been great," said Mancuso, who scored 11 goals for Boca. "He's been knocking the ball in for us left and right."
Against the Rangers, Andy Perez set up the play from the left side. He sent a cross to Fraggos, who was stationed in front of the goal and sent in a header for the game's only score.
"Jason saw me on the outside and fed me the ball," Perez said. "I had plenty of time, so I looked up and saw Andy Fraggos far post."
"That was a beautiful pass," Fraggos said.
Perez would provide his team's only goal in the semifinals, a 2-1 loss to West Chester United 82 Coppa that ended Boca's season. Jersey Shore finished 13-3-1 overall, including second in the MSSL regular season.
For Fraggos, it was his first season playing on the U23 team after playing on the U19 squad last year. An outside midfielder, Fraggos will be a junior this fall at Towson University.
It was his ability to score big goals that earned him the nickname "Garbageman" from his Boca teammates.
"Andy's gotten better as the season's gone on," Perez said. "He's been picking up more playing time and getting a lot of confidence. He comes up good in the clutch. He's always knocking at the door, always getting the job toward the end of the game. He's our go-to guy at the end of the game, it seems."
"One of his game-winners, he made me look great," Boca coach Walt Konopka said. "I had just sent him in as a sub. About two minutes later he's standing in front of the goal. Then rebound, boom-boom, he scores. He's been a very nice addition."
Born in Chicago, Fraggos was a standout at Hershey High School in Pennsylvania. It wasn't until his freshman year at Towson that his parents moved to Marlboro. A physical education major, Fraggos still spent most of the summer in the Baltimore area, taking a four-credit summer school course in anatomy and physiology and returning to New Jersey to play with Boca on the weekends.
"When my parents moved, I knew I had to look for soccer clubs out here," Fraggos said. "This is the closest club and it's the most competitive."
Fraggos has seen sporadic playing time in his first two years at Towson, playing in 12 games as a freshman and nine as a sophomore. With three assists overall, Fraggos is looking for his first collegiate goal and hopes to break into the starting lineup this fall.
"It's going to be a toss-up," Fraggos said. "We're getting a lot of good guys, so we'll see. We'll have a very good team."
"I think this year he's going to be a big factor for Towson," Konopka said. "I like him there outside at the mid. That's where he got his goal (against the Rangers). I think he's really come along."
Asbury Park Press – 08/3/06

news