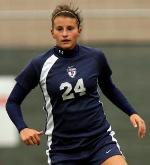 Boca U23 women's player and UPenn's senior standout Jessica Fuccello has been named the Player of the Week by both the Ivy League and Eastern College Athletic Conference for the week ending October 18. This marks the 3rd time Fuccello has received the Ivy honor this season and the second time the Boca attacker has been honored by the ECAC.
Fuccello Doubles Up On Honors
Boca standout earns Ivy League and ECAC player of the week recognition
PHILADELPHIA, PA (October 19, 2009) – Jersey Shore Boca U23 women's player and University of Pennsylvania senior standout Jessica Fuccello (Brick) has been named the Player of the Week by both the Ivy League and Eastern College Athletic Conference (ECAC) for the week ending October 18, 2009.
This marks the third time Fuccello has received the Ivy honor this season and the second time the Boca attacker has been honored by the ECAC.
The former Brick Memorial star's honors were well-deserved following her performance against Dartmouth last Sunday.
Fuccello scored three goals and assisted on another in the first 25 minutes as Penn jumped out to a 4-1 lead en route to a 5-1 victory.
The hat trick, Fuccello's third this season, gives her an Ivy League-leading 16 goals on the year, which ties the program's single-season mark originally set in 2003.
Fuccello also scored in Penn's 3-0 midweek win over Binghamton, and has scored in seven of the Quakers' last eight matches.
Despite missing essentially her entire junior year to injury, Fuccello has 36 career goals which is second all-time at Penn.
Fuccello has been a member of the Boca U23 women's program the past several years while her brother Justin has been part of numerous Boca youth, U23 and adult teams.
Boca has been a fixture in the soccer community since 1978 and is one of the most respected soccer clubs on the East Coast.
The Club is celebrating their 31-year anniversary in 2009.
For more information about the Boca U23 teams and all other the Jersey Shore Boca programs logon to the Club's official web site at www.jerseyshoreboca.com

news