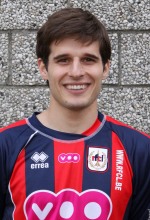 Former Jersey Shore Boca soccer club standout Nick Gkionis has parted company with Royal Liege of the Belgian Second Division this past week and has moved across the countryside to join Excelsior Veldwezelt of the Belgium third division. Gkionis was a member of numerous Boca teams throughout this career including Boca's youth club teams, Super-Y League teams and U20 and U23 teams.
Gkionis Leaves Royal Liege
Boca alum moves to Excelsior Veldwezelt of the Belgium third division
LIEGE, Belgium – (January 18, 2010) – Former Jersey Shore Boca soccer club standout Nick Gkionis has parted company with Royal Liege of the Belgian Second Division this past week and has moved across the countryside to join Excelsior Veldwezelt of the Belgium third division.
"Considering the circumstances at the club, I thought it would be best for me to seek a challenge elsewhere," the Boca alum has quoted.
Struggling at the bottom of the league and scrambling to save their second division status, the Liegois management decided to panic shop and has brought in six new Brazilian players.
"I wanted to stay with Liege because I am not someone to shy away from a challenge, but they made it very difficult," explained Gkionis.
A few third division teams showed interest in Gkionis and he decided to sign for Excelsior Veldwezelt.
"Veldwezelt has a good group of guys but is an overall young team, which will present an interesting opportunity. They definitely have quality so I think what I want to do is bring a little bite to the midfield," he concluded.
The former Boca standout is expected to make his Excelsior debut against FC Bleid.
Gkionis, who was on the books of Royal Racing Montegnée of the Provincial League in Belgium last season, joined Royal Liege during the summer.
The Jackson native spent his first year of professional soccer in 2007 with MEAP Nisou of the Cypriot Second Division in Cyprus.
The Boca alum was a four-year starter for Stevens Institute of Technology in Hoboken and developed into one of the most talented players in program history. He capped his senior year off by being named a first-team All-American by the National Soccer Coaches Association of America.
Gkionis, a 2003 Jackson Memorial HS graduate, is a long-time Jersey Shore Boca veteran who competed on numerous Boca teams throughout this career including Boca's youth club teams, Super-Y League teams and U20 and U23 teams,
Jersey Shore Boca has been a fixture in the soccer community since 1978 and is one of the most respected soccer clubs on the East Coast.
The Club is celebrating their 32nd year of existence in 2010.
For more information on the Jersey Shore Boca Soccer Club visit the Club's official web site at www.jerseyshoreboca.com
news