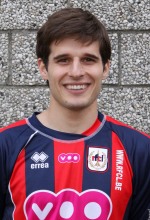 Former Jersey Shore Boca soccer club standout Nick Gkionis got his first start of the season with Belgium second division club Royal Liege and rewarded his side with his first goal with his new club. Gkionis was a member of numerous Boca teams throughout this career including Boca's youth club teams, Super-Y League teams and U20 and U23 teams.
Gkionis Scores In Belgium Action
Boca alum earns first start for Royal Liege in 2-1 loss
LIEGE, Belgium – (November 29, 2009) – Former Jersey Shore Boca soccer club standout Nick Gkionis got his first start of the season with Belgium second division club Royal Liege and rewarded his side with his first goal with his new club.
Having been on the bench or in the stands for most of the season, Gkionis took advantage of an early cross into the box and poked home his first goal of the season after just two minutes from six yards out.
The Liege defense was unable to keep the lead very long.
Just 12 minutes later, their opponents Tienen tied it up and then netted the eventual game winner in the 34th minute.
The loss keeps Gkionis and Royal Liege rooted to the basement of the Exqi League with just a pair of games left before the holiday break.
The team has scored just 11 times while collecting nine out of a possible 48 points.
Gkionis, who was on the books of Royal Racing Montegnée of the Provincial League in Belgium last season, joined Royal Liege during the summer.
The Jackson native spent his first year of professional soccer in 2007 with MEAP Nisou of the Cypriot Second Division in Cyprus.
The Boca alum was a four-year starter for Stevens Institute of Technology in Hoboken and developed into one of the most talented players in program history. He capped his senior year off by being named a first-team All-American by the National Soccer Coaches Association of America.
Gkionis, a 2003 Jackson Memorial HS graduate, was a long-time Jersey Shore Boca veteran who competed on numerous Boca teams throughout this career including Boca's youth club teams, Super-Y League teams and U20 and U23 teams.
Jersey Shore Boca has been a fixture in the soccer community since 1978 and is one of the most respected soccer clubs on the East Coast.
The Club is celebrating their 31 year of existence in 2009.
For more information on the Jersey Shore Boca Soccer Club visit the Club's official web site at www.jerseyshoreboca.com

news